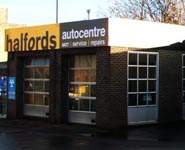 Halfords Autocentre Newcastle (Scotswood)
George Street / Blandford Street Scotswood Newcastle - on - Tyne , NE4 7JL
What customers are saying about us
Had a internal door handle wire attached.
Had a internal door handle wire replaced and they did a well enough job until the wire became loose and the external driver side door cannot open. So I had to return a 2nd time to ha e it fixed. They Read more...were helpful and had the wire reattatched and explained what happened with it. Hopefully it is sorted and I dont have to take time off to have it done again. Friendly service and efficient workers.
Very friendly staff and informative
Very friendly staff and informative. Got my tyre replaced here and also my MOT and I would highly recommend to anyone. Will definitely be getting my future MOTs here :)
Sophie Campbell
Great thanks guys
Great thanks guys
Highly recommend for service and MOT
Very friendly staff, professional advice, always keep you inform with status of the progress, great value for money.
Relaxed and Simple
Really nice chap on the desk took my keys and made me aware of the wait time. Right near a town so I just popped in there for a bite to eat. Missed the call but they left a voicemail to say the car wa Read more...s ready to be collected. Not pushy at all, just made me aware of their closing time and everything went smoothly.
Puncture
Great service.Nice staff.
Great
Great, quick and honest service. First time ever getting an MOT and was so easy and straight forward. Will definitely use for future.
Mott
Booked in for MOT excellent and
Booked in for MOT excellent and efficent service as usual
Great smooth experience and interim
Great smooth experience and interim services was completed in a few hours