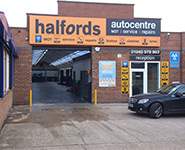 Halfords Autocentre Thanet
Westwood Cross Margate Road, Westwood Broadstairs , CT10 2PR
This centre is currently closed. We are re-opening on Monday 6th April.
What customers are saying about us
Outstanding customer service
Outstanding customer service to sort out the 'noise' in my car. A comprehensive car check identified the problem which can be sorted.
Professional & Friendly
Lovely greeting and welcome. MOT completed in expected timeframe. Emailed to say MOT complete and car ready. Confirmed same minor concern as the service a month ago. 10 out of 10 for consistancy. Than Read more...k you !
Lorraine
Oil and Filter change
Oil and Filter change Quick, easy and friendly service. Dropped off the car at 8am and was ready by 9.30am.
Very helpful and explain etc and very
Very helpful and explain etc and very warm welcome
What a great team
The guys at Halfords autocentre Thanet are courteous, professional, trustworthy. The customer service outstanding. A real credit to the organisation.
Great service
Great service
Excellent service
Excellent services provided again. They quickly identified three problem and fixed it without fuss. Great communication and willing always to help us.
Easy to book
Easy to book, good price, test done on time, pleasant customer relations.
Clifford
Nice and friendly manager
On talking to the manager it appears he was short staffed so ran over time a little but as i was in no particular hurry it was nice to have a chat.
Very good service and very polite
Very good service and very polite