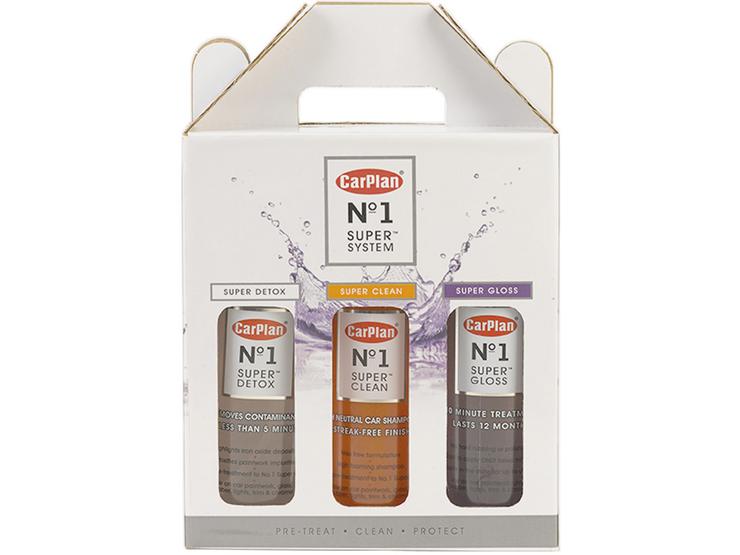 10 people are viewing now
5 purchases during last 48 hours
Cleaning Stage : All
Suitable For : Bodywork and Glass
No.1 Super System
CarPlan No1 Super System contains the unique collection of CarPlan No1 products that detox, deep clean and protects your vehicle's exterior for up to 12 months. CarPlan No1 Super System is an exterior vehicle cleaning kit that treats your vehicle's bodywork with a detoxifying, deep clean and leaves a glossy high shine and lasting protection. Within this kit, No1 Super Detox highlights and dissolves stubborn, invisible iron oxide deposits whilst No1 Super Clean effectively removes dirt, dust and grime all in one easy application. Once the car is cleaned, apply No1 Super Gloss to seal and protect your paintwork for up to a year, simply watch the water bead off time after time.
Features & Benefits:
CarPlan No1 Super Detox - Removes iron oxide deposits. Detoxifies paintwork impurities. Ideal pre-treatment to No1 Super Clean.
CarPlan No1 Super Clean – Wax free formulation. High foaming shampoo. Ideal pre-treatment to No1 Super Gloss.
CarPlan No1 Super Gloss – No hard rubbing or polishing. Easy to apply only takes minutes. Locks in the shine for up to a year.
Hazards & Warnings

Warning: Harmful if swallowed

Warning: May cause an allergic skin reaction

Danger: Causes serious eye damage
: Harmful to aquatic life with long lasting effects