Meguiars Gold Class Leather Conditioner 473ml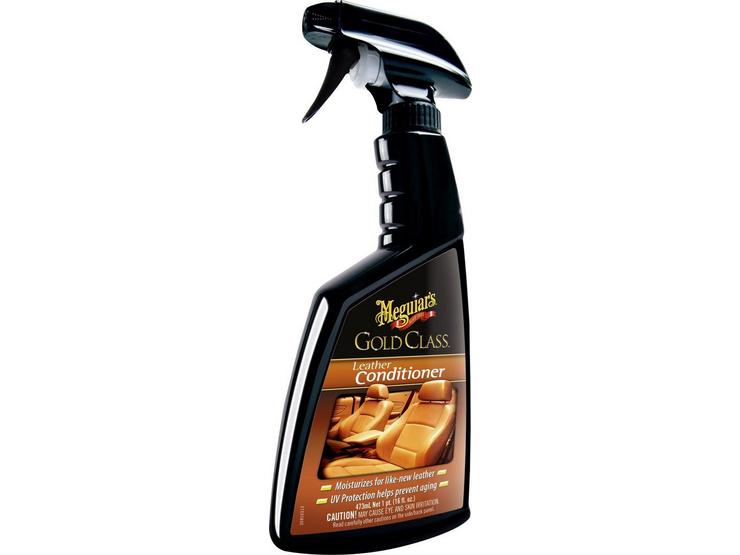 10 people are viewing now
5 purchases during last 48 hours
Meguiars Gold Class Leather Conditioner 473ml
Cleaning Stage : Upholstery
Suitable For : Leather
Meguiars Gold Class Leather Conditioner 473ml
The Meguiar's Gold Class Leather Conditioner combines aloe and premium conditioners to maintain the original look and feel of leather surfaces. The premium conditioner moisturizes and protects, without leaving a white residue or an artificial gloss.
This combined leather cleaning and care product removes dirt, nourishes and protects, without changing its original suppleness. It is designed to replenish oils that are slowly extracted from the leather through regular use. Aloe, a basic ingredient in many lotions maintains maximum suppleness and strength. Besides, a powerful UV factor helps against discolouration and dehydration by the sun.
Simply spray on and work into the leather with the Meguiar's Even Coat Applicator. Wipe off with a clean Meguiar's Supreme Shine Microfibre. Ideal for use after using the Meguiar's Gold Class Leather Conditioner.
Features & Benefits:
Moisturizes & conditions for like-new leather
UV Protection helps prevent ageing & fading
Combines aloe and moisturizing oils for superior conditioning
Premium conditioners maintain the original look and feel of leather surfaces
Ideal for use after using the Meguiar's Gold Class Leather Conditioner
Convenient trigger spray leaves leather looking rich and natural
Advanced hybrid polymers create a long-lasting barrier to protect against daily wear, accidental stains
Ideal for use in the car or at home
Safe for both old and new leather