Find what's right for your vehicle
Enter your registration number and we'll only show you appropriate products.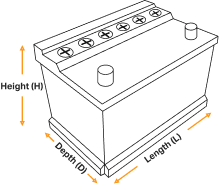 Check which battery is right for my car
Fuel Tanks Information
About Car Fuel Tanks
Your fuel tank, or gas tank, is a container that supplies the engine with fuel for your vehicle to function. A collision, corrosion or damage can spell the end for your fuel tank. If water (or any other nasty substance) gets into your fuel tank, it can cause corrosion. While you won't be able to see inside, you may notice sediment or obstructions appearing in your fuel filter. If you notice this, it is a sign you may need to get your fuel tank replaced.
Fuel Caps
Fuel caps are also at risk from wear and tear, bumps and scrapes and vandalism. If you notice a missing or damaged fuel cap or have been in an accident, be sure to check your car fuel tank and gas cap for damage.
Fuel caps & fuel tanks for sale
When you need a fuel tank or fuel cap replacement, Halfords have got a great range of car parts online. Simply head over to our car parts page, input your registration and you'll see the suitable fuel caps and fuel tanks for sale. All of our parts are available with speedy home delivery or use Click & Collect to have your new fuel storage tank or cap delivered to your local Halfords store.