Window Winders & Regulators
Find what's right for your vehicle
Enter your registration number and we'll only show you appropriate products.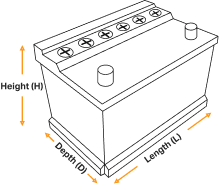 Check which battery is right for my car
About our window winders and car regulators
A car window that won't lower or one that's stuck open is a problem that needs to be fixed. A faulty window will not only affect resale value, but it can also be unsafe. An open window can be an inviting opportunity for any thief, so don't give them a chance.
Window regulator replacement
Your window regulator is the mechanism that moves the window up and down. They're either powered by an electric motor or manually moved with a crank handle. Common signs of a broken window regulator are that your window is jammed or has fallen down inside the door. This could be caused by a broken gear, a loose cable or a problem with the regulator carriage.
Window winder replacement
Although electric car windows are more common these days, you can still find vehicles that use window winders. The most frequent cause of window handle failures is worn out splines, where you may find that the window winder turns without activating the regulator.
Order car window parts online
At Halfords, we have direct replacement car window winders and car window regulators available for a variety of makes and models. We've made it as easy as possible to identify the parts you need for your repair with our online search tool. Enter your registration number or some details about your car and it will display the right window spares for your vehicle. While it may sound complicated, choosing the right parts - and having the right tools - can make the job relatively simple for the patient home mechanic. You can buy replacement car window parts or window spares online with free delivery over £40, or use Click & Collect to have your parts delivered to your local Halfords store.