Wiper Arms, Wiper Motors & Washers
Find what's right for your vehicle
Enter your registration number and we'll only show you appropriate products.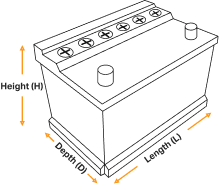 Check which battery is right for my car
About our windscreen wiper parts
Windscreen wipers are essential for clearing rain, snow, dust and debris from our vehicles and are a legal requirement.At Halfords, our range of windscreen wiper arms, wiper motors and washers contain everything you need to repair or replace your car's windscreen wipers. We even stock replacement wiper blades too.
How do windscreen wipers work?
The windscreen wiper system in your car is made up of a motor which powers the arms which hold the blades. A separate washer system shoots water onto the screen to clean it. Any part of the system can fail, and if it does, it needs to be addressed. You may need replacement front or rear wiper arms, wiper motors or washers to get your windscreen wiper back in order. A broken washer system isn't just dangerous; it will affect your car's resale value and its ability to pass an MOT.
Order wiper arms, motors and washers online
At Halfords, we stock a complete range of windscreen wiper system spares. Ready and waiting, you'll always find windscreen wiper arms, wiper motors and washers suitable for most common makes and models of vehicle.
Using our online search tool makes identifying the right part for your car easy. Add your registration number or select your car from the menu, and you'll see the parts that fit. Ordering is simple too, with free online delivery on all car parts orders. If it's easier, use our Click & Collect service to have your wiper parts delivered to your local Halfords store. Rain, wind, sun and snow, Halfords is here to keep you on the road, wherever you're going.