Find what's right for your vehicle
Enter your registration number and we'll only show you appropriate products.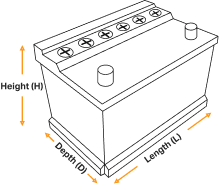 Check which battery is right for my car
What is a pollen filter in a car?
With a pollen filter and car air filter, you'll experience a more pleasant and comfortable ride, especially during the summer when the pollen count is high. A fully working pollen air filter, otherwise known as a cabin filter, can extend the life of some of the most valuable components in your car, such as the heating and air conditioning systems.
You'll find the pollen air filter in the engine compartment or cabin, and using an electrostatic paper filter to collect pollen, dirt and debris - prevents them from entering your vehicle. While most vehicles use electrostatic paper, premium models use carbon filters, which also prevent unpleasant smells and fungus from entering the cabin. What's more, if you live in an urban or industrial area, without proper filtration you could be exposed to harmful toxic gases and air pollution that can cause headaches, nausea and fatigue.
How often should you change a pollen filter?
As professionals, we recommend that you replace your pollen air filter once a year - or every 10-15,000 miles. However, if you park in an area surrounded by trees, or if you live in a heavily polluted area, it's advised that you replace it more frequently. If you need a pollen filter replacement, enter your registration number into the tool provided and our system will pull all relevant products for your vehicle. Within our range, you'll find a huge choice of products for all car makes and models. If you need a different car filter, you'll find it at Halfords where we stock all types of car filters.
Order a car pollen filter replacement
Once you've found the products you need, order online with our convenient click & collect service to receive your products sooner. Alternatively, opt for delivery to have them delivered to your home or work address. Still unsure which products to choose? Head down to your local Halfords store and speak to one of our team for more information.