Find what's right for your vehicle
Enter your registration number and we'll only show you appropriate products.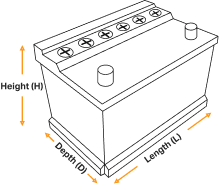 Check which battery is right for my car
Suspension mountings are one of the most important components in your car's suspension system. Depending on the make, model and age of your vehicle, you'll find either two or four suspension mounts. Vehicles with independent suspension feature two mountings at the front, whereas four-wheel-drive cars have four - two in the front and two in the rear. The mountings are located above each wheel and are fixed into place with a circular metal plate. Because they are in constant use, suspension mountings are subject to intense strain as your car clocks up miles. This can lead to faults which can affect the overall performance of your car - especially the ride comfortability. Suspension mount issues are fairly simple to diagnose, as they usually start with excessive vibration or noise. If you hear unusual loud noises then there's a chance you have a suspension mount fault, in which you should head to your local Halfords store for a diagnosis. We offer a wide range of products for all car makes and models. To find yours, enter your vehicle registration number into the tool provided and our system will pull relevant products suited to your car reg. Once you've found the products you need, use our convenient click & collect or delivery service to get hold of your products sooner. Alternatively, use our delivery service if you'd prefer to have them delivered to your door. Still unsure which products to choose? Head to your
local Halfords store
where one of our colleagues will be happy to help you out.