Wynns Lead Substitute with Fuel Stabiliser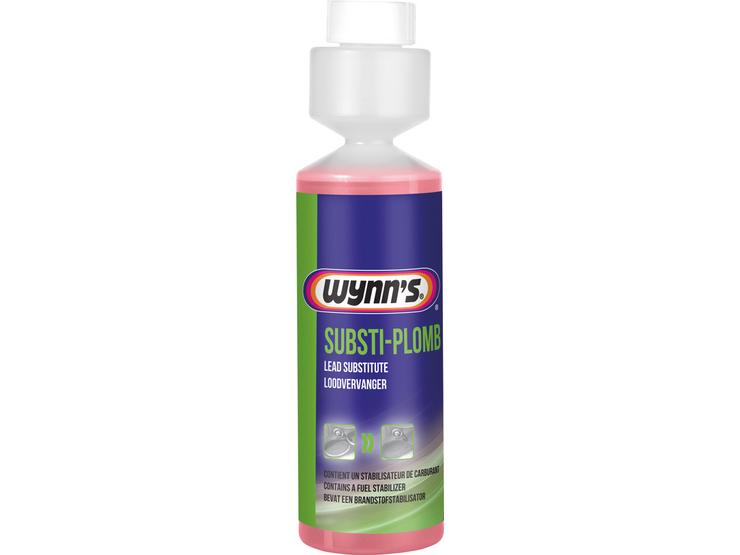 10 people are viewing now
5 purchases during last 48 hours
Wynns Lead Substitute with Fuel Stabiliser
Wynns Lead Substitute with Fuel Stabiliser
Wynn's Lead Substitute with Fuel Stabiliser is a dual action potassium formula lead substitute for all petrol engines. It protects valve seats and reduces wear, and also protects unleaded fuel from deteriorating if stored for a long time. It is ideal for LPG engines, motorbikes, lawn mowers, yachts and outboard engines.
Features & Benefits:
Great substitute to a leading brand's valve master lead replacement
Forms a protective and lubricating coating on valves and valve seats
Prevents deposit formation in the tank and filter caused by oxidation products
Eases starting of the engine after a period of extended shutdown
Economical to use, treats 250 litres of petrol
Easy-to-dispense calibrated bottle
Safe for catalytic converters
Completely soluble in petrol
Does not influence the octane number
Application:
For all two-and four-stroke petrol engines.
For engines of cars, motorcycles, LPG engines, yachts, outboard engines, generator sets, pumps and lawn mowers.
Directions for use:
Add to the unleaded petrol at each tank filling, preferably before filling-up. Mixture ratio 1:1000 (1 ml per litre petrol, e.g. 25 ml for 25 litres petrol).
The content of the bottle (250 ml) is sufficient to treat 250 litres unleaded petrol.
Hazards and Warnings:
May be fatal if swallowed and enters the airways
Causes skin irritation
May cause an allergic skin reaction
Causes serious eye damage
Harmful to aquatic life with long-lasting effects
Additional Note:
Hazards & Warnings
Danger: May be fatal if swallowed and enters airways

Warning: Causes skin irritation

Warning: May cause an allergic skin reaction

Danger: Causes serious eye damage
: Harmful to aquatic life with long lasting effects