Farecla G3 Pro Scratch Remover Paste 150ml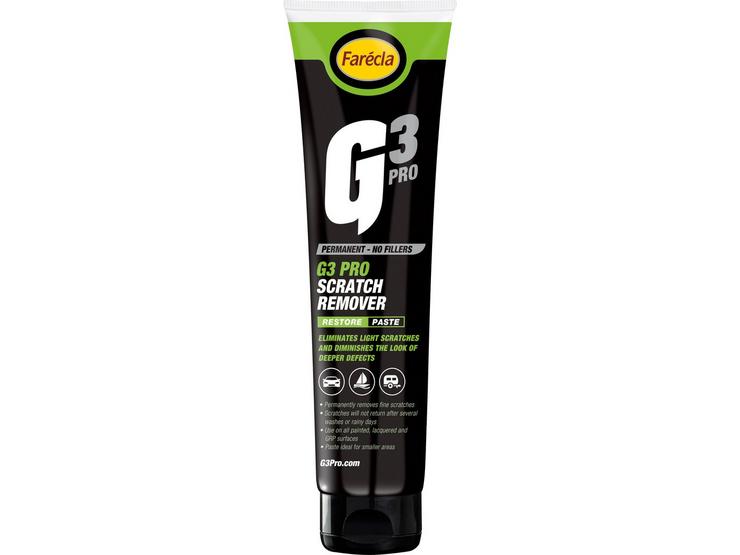 10 people are viewing now
5 purchases during last 48 hours
Farecla G3 Pro Scratch Remover Paste 150ml
Diminishing Abrasives : Yes
Farecla G3 PERMANENT Scratch Remover Paste 150ml
G3 Pro Scratch Remover Paste is a permanent solution for removing minor scratches that do not stop your fingernail when run over the surface of your vehicle. The appearance of deeper scratches will be diminished.
The Farecla G3 PERMANANENT Scratch Remover Paste is made with a technically advanced formula, this remover paste will remove surface scratches and scuffs from your car bodywork with ease. G3 Pro Scratch Remover Paste is thick and easy to control, making it ideal for small areas.
No need for expensive trips to the bodyshop with this do it yourself scratch remover paste.
Features & Benefits:
As used by professionals
Suitable for all paint types
Removes unsightly surface scratches and scuffs from car bodywork
Contains unique engineered abrasive Technology diminishing abrasives for safe and effective application
Directions of use:
Ensure surface is spotlessly clean, dry and cool
Dampen a G3 Pro White Applicator Waffle Pad
Apply a small amount to the applicator
Apply even pressure in a straight back and forth motion starting left to right and then up and down
Stop once the scratch is removed or if the paint begins to fade. If dulling appears, simply use G3 Pro Paint Renovator or G3 Pro Colour Restorer with a clean G3 Pro White Applicator Waffle Pad. This is most likely on darker paints
Remove residue with a soft, clean, dry cloth