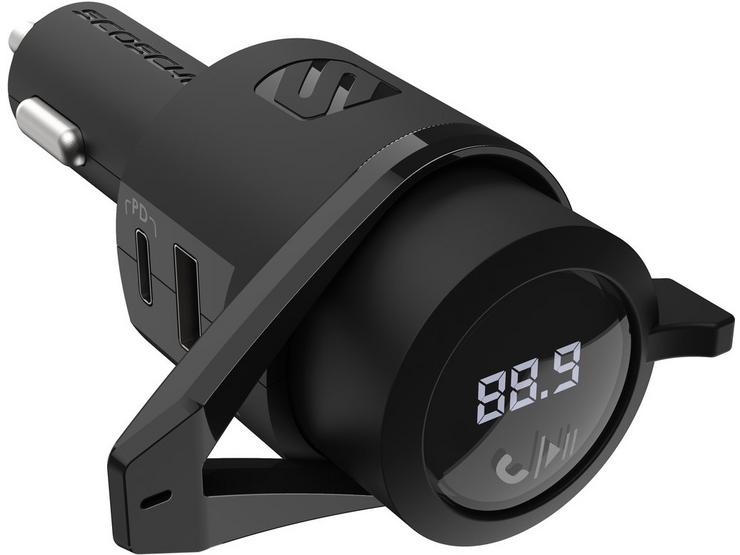 10 people are viewing now
5 purchases during last 48 hours
Scosche Wireless Hands-Free Car Kit
Wireless music streaming
Bluetooth 5.0 hands-free calls
12V Powered
Compatible with all smartphones and mp3 players
Built-in charger and controls
Power delivery 3.0 charge
Perfect charge technology
3 Year Warranty
Crystal Clear Audio
The Scosche Wireless Hands-Free Car Kit is perfect for making hands-free calls and wirelessly streaming music from your Bluetooth compatible device to your vehicles radio with a crystal-clear crisp sound. You can stream audio files using your device's Bluetooth or using the 3.5mm output on your device with the included 3.5mm AUX audio cable. Our unit comes equipped with the latest Bluetooth 5.0 technology for a strong wireless streaming connection.
The Multi-Function Button (MFB) allows you to answer incoming calls with a simple push of a button. It also controls BTFREQ's volume up/down, play/pause, answer/hang up the phone or voice controls like Siri and Google Voice. Adjust the FM frequencies using the Frequency Tuner Button (FTB).
3X Faster Charging
The car charger plugs into any vehicles 12V port to power the BTFREQ and charge your Power Delivery, standard USB-C or USB-A compatible device, at the same time. The 18W USB-C Power Delivery 3.0 port is the ultimate solution for charging any USB Type-C device with Power Delivery 3.0 technology or standard USB Type-C.
Power Delivery 3.0 technology charges your compatible devices up to 3 times faster versus a conventional USB charger.The USB-A port comes equipped with perfect charge technology which delivers a blazing fast charge by detecting and providing your device with the fastest most powerful charging speed. The fast charge rates mean less time tethered to your charger and more mobility for you.
Clear LCD Display
The convenient design of the LCD display provides an easy to read interface. It's easy to sync; just find an unused FM frequency on your vehicles stereo and match the same frequency on the FM Transmitter. One-click access makes it easy to use Siri and Google voice on your device with the BTFREQ FM Transmitter.
The Scosche BTFREQ universal Bluetooth hands-free car kit and FM Transmitter is compatible with your iPhone, Android, MP3 Player, Bluetooth compatible or any other mobile device with a 3.5mm AUX output port. Perfect for use in your vehicle while making hands-free calls or listening to music during a long road trip! The BTFREQ is backed by Scosche's Lifetime Tech Support and 3-year warranty.