Back to results
Hybrid Bikes Buyers Guide + Video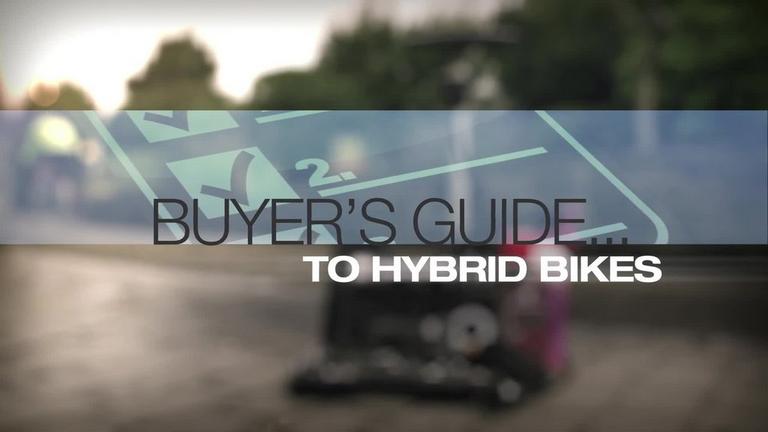 Hybrid bikes are halfway between mountain bikes and road bikes, and are great for all kinds of riding! Read on to learn what a hybrid bike is, and what features they have.
Hybrid Bikes Buyer's Guide
Hybrid bikes take elements from road bikes and mountain bikes, making them great for all kinds of uses. However, this also means they come with lots of different features.
What's a hybrid bike?
If the kind of riding you do isn't gnarly enough for a full-on mountain bike, and you aren't covering lots of miles at high speed like you would on a road bike, then a hybrid bike can be perfect. They're practical, comfortable, and are built for all kinds of riding.
Hybrid bikes have an upright riding position, giving you a good view of the road ahead while putting less strain on your back and neck than a road bike. They all have flat handlebars, instead of the 'drop' handlebars you'd see on road bikes which allow you to adopt an aerodynamic position.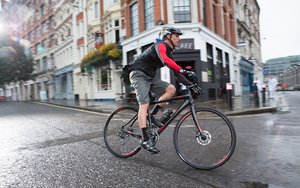 Which way do you lean?
We say that hybrid bikes go between road bikes and mountain bikes, and they do! However, there are a huge range of different kinds of hybrids to choose from. Some will have bigger tyres and suspension to improve off-road performance, while some will have thinner tyres and more aggressive positions to give some extra speed on smooth surfaces or roads.
Have a think about the kind of riding you'll be doing most. Do you spend a lot of time on roads and paths commuting to work? Do you like to ride around the trails at the park? By considering where you'll ride your bike you'll be able to get a hybrid that is tailored for your own ride, as well as capable of doing a bit of exploring when the mood takes you!
Wheel sizes
Hybrids can be found with either 26", 27.5" or 700c wheels. Generally speaking, larger wheels will roll faster, but smaller ones will feel more nimble in tight turns. Hybrids with bigger wheels roll quickly and easily on roads and smooth trails, but can still cope with being ridden off-road.
Suspension
Hybrids use wider tyres than road bikes, which give a more comfortable ride as well as more grip. If you're looking for some extra comfort in your ride, a suspension fork can smooth out bumpy trails and potholes. Of course, it'll also add some weight, so it's up to you to decide how cushy you'd like your ride!
Frame materials
Steel makes for strong and reliable frame. It's the traditional material for building bike frames.
Aluminium will save weight, making the bike easier and more efficient to ride. An aluminium bike is normally an upgrade over steel.
Brakes
A great upgrade for hybrid bikes is disc brakes. They give consistent stopping power in all conditions, and don't wear down your rims. This is because they use a separate brake disc to slow each wheel, instead of pressing brake pads against the rim.
Gears
Hybrid bikes normally come with derailleur gears. The back wheel has several sprockets in a cassette on the back wheel, with a mechanism (the derailleur) to move the chain between them. Hybrids tend to have a wide range of gears for use on and off the road.
Some higher-end hybrids come with hub gears. In these, there's just one sprocket at the back, and the gear mechanism is inside the rear hub. This way, all the moving parts are protected from dirt, and everything can keep going much longer without maintenance!
Racks and mudguards
Because they're made for everyday riding as well as fitness and leisure, almost all hybrids have room for mudguards and luggage racks (if they aren't included as standard). Look out for extra threaded holes on the frame near the wheels and seat collar - that's what these are for!
Mudguards really make a difference when you're riding in wet weather. As well as keeping you clean, they also help keep any road muck off the bike and the drivetrain, so it lasts longer! Luggage racks let you load up the bike with panniers, so that the bike can carry the weight of your bags and you can ride more comfortably.
No matter what kind of riding you do, there's a hybrid bike to suit! They're great for people who ride once in a while, as well as people who use a bike for everything from commuting to off-road trails. Fancy taking a look at our range of hybrid bikes? Just click here.
View all Hybrid Bikes