Back to results
Mountain Bikes Buyers Guide + Video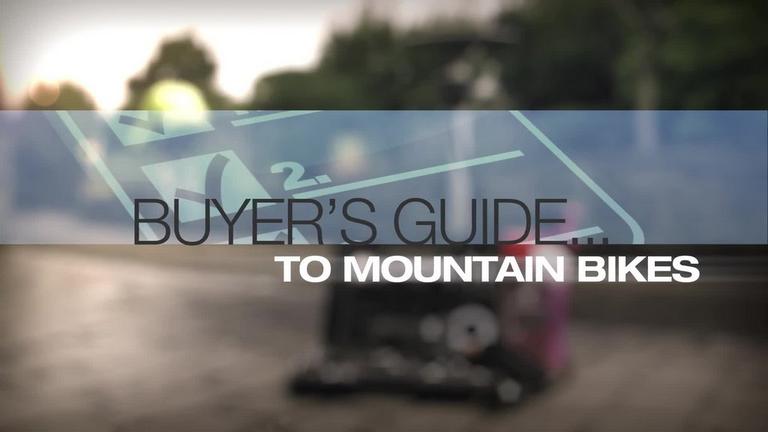 If you want lots of adventure in your cycling, then a mountain bike could be for you.
Mountain Bikes Buyers Guide
You can't beat mountain biking for adrenaline, so if you want lots of adventure in your cycling, then a mountain bike is definitely for you. Get the right bike and you'll be able to take on any obstacle that nature throws at you.
Why are mountain bikes different?
They've got suspension to handle a bumpy ride.
They've got wide tyres to give extra traction.
They're a cheap and eco-friendly way to get around.
The wheels have off-road tread to absorb those big landings.
They're stronger than other bikes, so you'll be able to tackle anything from hills to dirt trails.
Let's narrow it down
There are two types of mountain bikes, hard-tail and full suspension. Which one will you need?
Hard-tail mountain bikes
These have extra suspension at the front end to cope with bumpy terrain.
They're lighter, quicker and easier to pedal, even uphill.
They're more suited to riding in the woods and on smoother ground.
Full suspension mountain bikes
These have suspension at the rear as well as the front, so they can absorb more shock than hard-tail bikes.
They're heavier to pedal, but you'll be in more control when you're going downhill.
They're more suited to extreme riding, over every kind of rough surface.
Mountain bikes at Halfords
Pop into your local Halfords and we'll help you find the right bike. If you've already got an idea of what you're after, we can build your bike for free. When we're finished, you can either pick it up in-store or arrange to have it delivered.
You can also bring your new mountain bike in for a free 6-week service where one of our technicians will make sure it's still in top condition. Just select 'click and collect' to get started.
View all Mountain Bikes