Back to results
Roof Bars Buyer's Guide + Video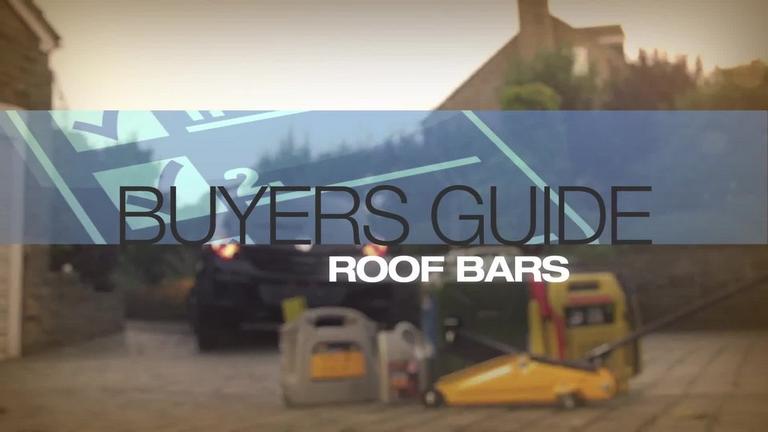 If you want to use a roof box or cycle carrier then you'll need roof bars to fix them to your car - read our handy guide to find out more.
Roof Bars Buyer's Guide + Video
Fitted roof bars are perfect if you're a regular camper or cyclist, as they mean you can take your bike and equipment with you on your travels.
In this guide, we'll explain the different kinds of roof bars that are available, as well as how to fit them to your vehicle. If you're looking for the right parts to fit your specific vehicle, use our vehicle lookup tool or ask in your local store, and we can tell you exactly what you'll need.
What different roof bar options are available?
For most cars, you'll be able to choose from 3 main types of roof bars:
Square bars - Traditional load bars in steel with black coating.
Aero bars - Made from lighter aluminium, these are more aerodynamic than steel bars, resulting in using less petrol. A "T-track" system across the bar enables the full width of the bars to be used when mounting accessories.
Thule Wing Bars - Exclusive to Thule, Wing Bars are made from aluminium, incorporate a full length T-track system, and are the most silent and aerodynamic roof bars available.
How do I fit the roof bars to my vehicle?
Because cars come in all shapes and sizes, roof bars are sold in three separate parts: the bars themselves, foot packs to attach to the bars, and fitting kits, which connect the feet to the roof. If your car has open rails (factory-fitted roof rails which come out of the roof), you may only need bars and a foot pack.
Roof bars, foot packs and fitting kits
Roof bars - These come in two main kinds: square and aero. Square bars are cheaper, but aero bars are lighter, quieter and more fuel efficient. Some top-end bars are able to slide out and away from the roof, making loading and unloading easier.
Foot packs - This part connects to the bottom of the bars, and helps the bars fit to your vehicle.
Fitting kits - Fitting kits contain the specific fittings you need to connect the foot packs to your roof, roof rails or the fitting points on your car. In some situations, you may not need a fitting kit.
To find out which specific parts you will need to fit roof bars to your vehicle, navigate to our roof bars page and use the vehicle lookup tool, or ask in-store.
Weight limits
Normally, roof bars will have a weight limit printed in the instructions or on the box, which is probably in the region of around 70kg. However, your car's roof will have a weight limit too, which is normally lower than this. Make sure that you check the instruction manual for your car before loading up your roof bars, so you know that your roof can safely carry the weight of both the bars and your load before setting off.
Roof bar fitting at Halfords
If you don't fancy fitting your own roof bars, or you'd just like the peace of mind that they're going to be installed properly, just head to your local Halfords. Our trained fitters can fit your roof bars for just £15/€20.
Now that you're in the know, why not take a look at our range of roof bars and fittings?
See all Roof Bars