Back to results
Halfords Car Battery Fitting Service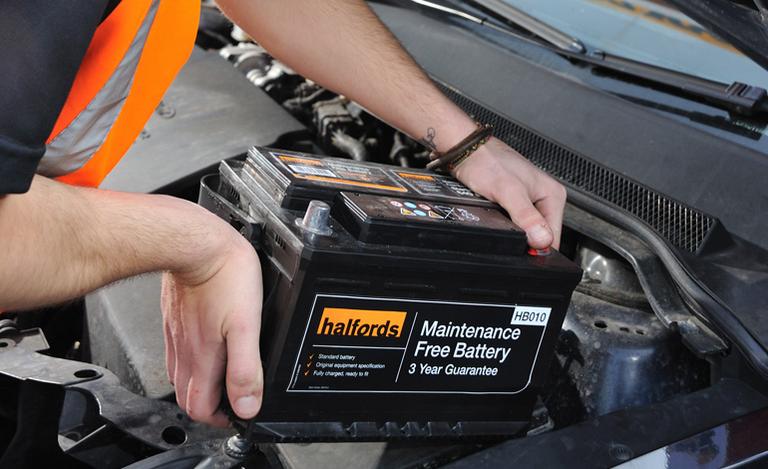 Our in-store experts can test your car battery for you and fit a new one if needed.
Car batteries are one component of your car that simply can't be ignored if something goes wrong. Over time, your car battery will naturally begin to deteriorate, creating issues such as repeated instances of discharging (i.e., going flat ) , and even worse, failure to start.
If your battery is at the point of giving up completely, then you'll need to buy a new one. Luckily, fitting it into your vehicle can be the easiest bit, with out motoring experts doing the hard work for you.
Car battery fitting at Halfords
---
Whether it's a pre-emptive buy to prevent problems from occurring, or an emergency trip to get a replacement to get you back on the road, our flexible in-store car battery fitting service is available at all our Halfords stores and Halfords Autocentres.
How does Halfords car battery fitting service work?
---
1. Buy your car battery online and select 'click and collect', or head to your local Halfords store and choose the battery for your car

2. At the checkout, ask a member of staff if your battery can be fitted.

3. We'll carry out a couple of checks to make sure it isn't just your battery that needs attention.

4. Relax in our waiting area while we do the hard work for you.

5. Once we've fitted your new car battery and checked it's working as it should be, you're good to go!
Battery fitting costs £15 for standard car batteries, or from £25 for start / stop, AGM and EFB batteries. Please not that all car battery replacements are subject to a pre-service check to ensure both your and our mechanics' safety.
Recycling
---
When you buy a new car battery from us, we'll recycle your old one for free. It isn't possible to dispose of your car battery with your household waste thanks to the high level of pollutants and difficult-to-recycle components, so we'll get rid of it in the most environmentally-friendly way possible.
What else can we do?
---
If you're in-store, why not take advantage of our free 5-point health check? As well as your battery, we'll also make sure everything's ok with your light bulbs, wiper blades, screen wash and oil levels.
What happens if I can't start my car to get to a Halfords store?
---
If your battery is point blank refusing to provide enough power to turn the engine over, then you'll need a few quick fixes to get back on the road.
1. Jump start your car
With the help of another car and a pair of jump leads, you can get your car going without any help from a broken battery, meaning you can drive it to a Halfords store or Autocentre. Just follow our handy guide to make sure you're doing it properly and safely.
2. Use roadside assistance, if you have
Most breakdown and recovery services will be able to come and start your car in order to get you to a Halfords store of Autocentre. If you don't already have a breakdown plan, then check out Halfords Breakdown Cover. We may even be able to get your battery problems rectified at the side of the road.
3. Call a Halfords Mobile Expert
If you can't get your battery to recharge or work, and travelling isn't urgent, then you can always book an appointment with one of our mobile mechanics. Halfords Mobile Experts can replace batteries at your home or place of work, saving you from having to jump start your car or head into a store.
Will you have the right battery for my car?
---
Halfords stock car batteries to fit over 98% of vehicles on the road, so we're likely to have exactly what you need. In the rare case that we don't have the correct battery for your car in stock, we'll simply order one in or recommend another Halfords store or Autocentre nearby if it's possible to get there.
We stock everything from standard car batteries with a 3-year guarantee through to our silver batteries In the rare case that we don't have the correct battery for your car in stock which have a 5-year guarantee and provide up to 45% extra starting power. Just ask about the direct options in-store In the rare case that we don't have the correct battery for your car in stock or browse the available options
Shop car batteries online