Kids' Scooters Buyer's Guide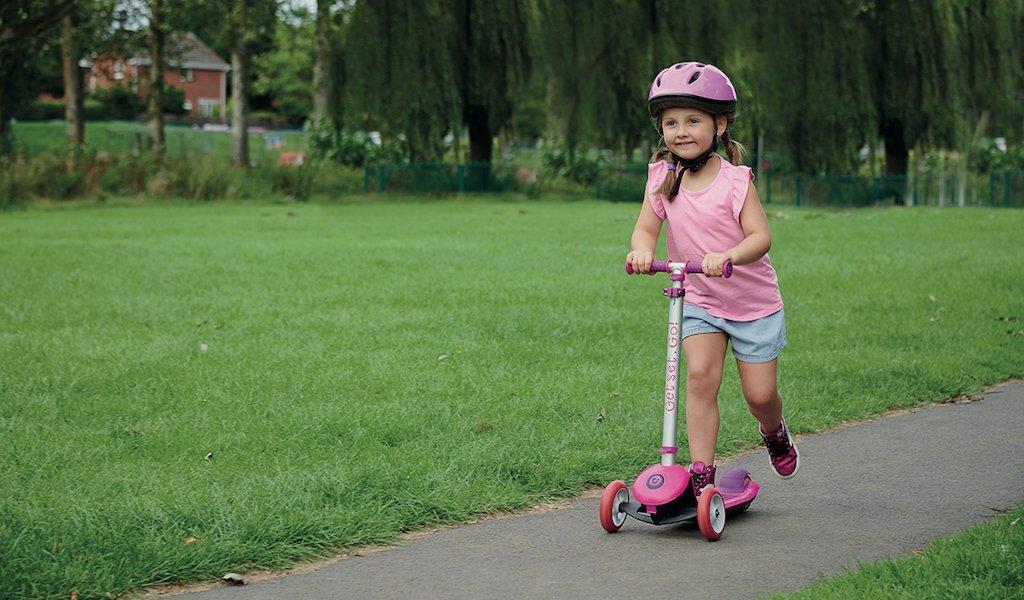 Scooters are becoming a popular way for kids to get around, whether it's to the local park or to school. They're not just a fun way to travel, but healthy too – did you know that riding a scooter exercises multiple muscle groups and that it can also help with weight loss?
Kids' scooters come in a range of different shapes and sizes, with many including designs, characters or colours that kids will love. They're also light and easy to carry, with some having a foldable design or coming with straps. This makes them particularly well-suited to the school run, as parents can easily take the scooter back home after dropping off their kids.
At Halfords, we've got a great selection of scooters for kids of all ages and this buyer's guide will help you to narrow down the options to find the perfect fit for your child.
Types of kids' scooters
When it comes to kids' scooters, the two main points to consider are the type of scooter and the age of your child. Scooters come in three main types, each with a suggested age range:
Multi-function scooters: 12 months and up
3-wheel scooters: 3 years and up
2-wheel/inline scooters: 5 years and up
If you're planning to use the scooter for commuting, you may also want to take the level of portability, weight and overall finish into account.
If you're looking for a stunt scooter, then check out our Stunt Scooter Buyer's Guide.
Multi-function scooters (12 months and up)
Multi-function scooters are a great option for parents who want a product that will grow with their child and last for years. These scooters start as a ride-on toy and can be switched later to become a 3-wheel scooter. The seat can also be removed and the handlebars adjusted to different heights to accommodate your child as they grow.
This type of scooter is ideal for kids aged 12 months or more (depending on their size).
3-wheel scooters (3 years and up)
When it comes to balance, 3-wheel models are easier to ride than classic scooters, making them a safer choice for toddlers. These scooters have two main steering methods: turn to steer or lean to steer (some models may even have both). Both methods will help kids to develop the balance and coordination that they'll need to ride a two-wheel/in-line scooter in the future.
This type of scooter is ideal for kids aged three years old or more.
2-wheel/inline scooters (5 years and up)
2-wheel scooters, otherwise known as inline scooters, roll faster than 3-wheel models and this makes them a great option for the school run or a family trip to the park. They'll also help kids to fine-tune their balance and coordination skills, which will stand them in good stead for the future.
Because 2-wheel scooters require higher motor skills to ride, this type of scooter is ideal for kids aged 5 years and more.
The best kids scooters
At Halfords we have a wide variety of kids' scooters that your little ones will love. Here are our top picks for some of the best scooters for kids:
Evo+ 3-in-1 Kids' Scooter Purple Flower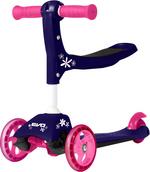 The Evo+ 3-in-1 Kids' Scooter is the perfect introduction to the world of scooters for your little one. Available in the blue shark or purple flower design, this scooter adapts and grows with your child. Initially, it works as a foot to floor ride-on, with a handlebar height of 44cm. As your child grows taller, you can remove the seat and adjust the handlebars to between 54 and 72cm, giving them a scooter that can move from side to side using the tilt function. The Evo+ also comes with TPR handle grips and a rear brake, to keep your little one safe throughout years of adventuring.
Paw Patrol My First Tri-Scooter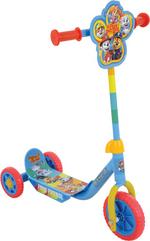 The My First Tri-Scooter series offers a fantastic selection of three-wheel scooters that feature popular characters. Our favourites are the Paw Patrol, Peppa Pig and Frozen 2 models, all of which offer a fixed handlebar, plastic non-slip footplate, plastic handlebar grips and a branded handlebar plaque. Bright, eye-catching and fun, these scooters use a basic turn and steer method that your child will find easy and simple to use.
Trunki Small Folding Kids' Scooter in Blue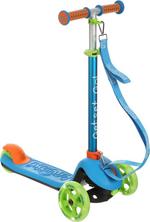 Trunki have worked in partnership with Halfords to create the Trunki Small Folding Kids' Scooter - another great example of innovative scooter design. Available in blue and pink, this scooter is perfect for commuting to school thanks to its carry strap, child-safe folding mechanism and protective bag.
EVO+ Mini Blue Robot Kids Scooter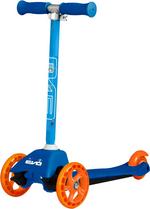 Little ones will love playing out with their friends on the EVO+ Mini Blue Robot Kids Scooter and is perfect for developing co-ordination and balance. Also available in Purple Star , the handlebar can be height adjusted, allowing kids to enjoy their scooter for years to come.
Maxi Micro Deluxe LED Pink Kids Scooter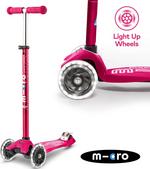 Kids will wow their friends with the Maxi Micro Deluxe LED scooter. The scooter converts the energy created by the rider into dazzling bright lights. Its lean to steer design teamed with the grippy footplate gives kids greater control and comfort, helping to build their independence.
Nerf Blaster Inline Kids Scooter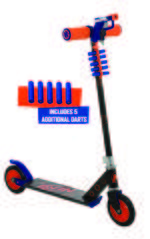 Kids will have a blast on the Nerf Blaster Inline Kids Scooter! The handlebar mounted Nerf Blaster, which includes 10 pellets, will provide hours of fun while the cool graphics ensure kids will love scooting around!
*Blaster and pellets not to be used whilst riding.
U-Move LED Scooter - Pearl Pink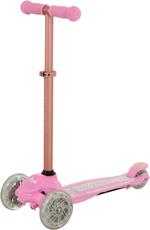 The U-Move LED Scooter is a great choice for kids first learning how to scoot. Also available in Green Dino, the restricted settings can be increased once your child builds their confidence. Kids will love the colourful light up wheels, which are sure to dazzle their friends!
Cutie Quins Sequin Inline Kids Scooter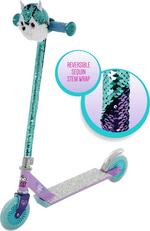 Shimmer and shine with our exclusive Cutie Quins Sequin Inline Kids Scooter. With a reversible sequin stem wrap and a handlebar mounted sequin purse, your child will certainly sparkle as they scoot to school or in the park.
Wired Hazard Inline Red Kids Scooter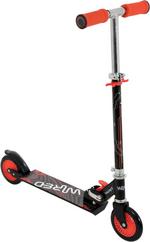 The Wired Hazard Inline Red Kids Scooter is ideal for children aged 5 and up who want to take their scooting skills to the next level. The adjustable handlebar with foam grip ensures your little ones can always ride comfortably while the frame can quickly be folded and is easily transportable.
Kids' scooter accessories
Helmets
Once you've tracked down the perfect scooter for your child, it's time to think about safety accessories. We'd always recommend that kids wear helmets when riding a scooter and skate-style helmets in particular. The hardwearing shell exterior of skate-style helmets provides greater coverage around the back of the head, while adjustable pads and fit systems provide a perfect fit.
Shop scooter helmets
Protective pads
Protective pads will help to keep little knees and elbows safe from any bumps or scratches. For younger riders, we have fun, character designs and for older riders we've got more robust knee/elbow pads with wrist guards.
Shop protective pads
Scooter carry straps
If the scooter you've chosen doesn't come with a built-in carry strap, then it can be a great idea to invest in one. This means you can easily transport your little one's scooter if their legs need a well-deserved rest or you've dropped them off at school.
Shop carry straps