Boardman SLR 8.6 Womens Road Bike - S, M, L Frames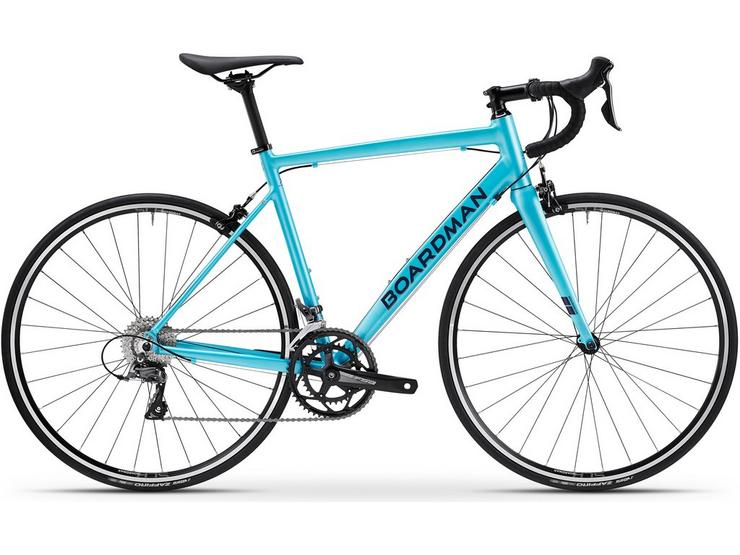 10 people are viewing now
5 purchases during last 48 hours
Boardman SLR 8.6 Womens Road Bike - S, M, L Frames
Verstaile Shimano Claris 2x8 gearing
Alloy frame and full carbon fork
25mm puncture resistant tyres
Boardman SLR 8.6 Womens Road Bike - S, M, L Frames
Frame: Lightweight Alloy with smooth welds for easy handling and clean lines
Forks: Full Carbon forks offer low weight and reduce road vibration
Gears: Shimano Claris 16-speed drivetrain with 11-32T for slick shifting with a wide range of gears
Brakes: Tektro R315 brakes for controlled and powerful stopping
Wheels: Boardman wheels and 25mm Puncture Resistant Vittoria's Zaffiro tyres for a great balance of grip and comfort
Critically acclaimed for its balance of speed and comfort, the first generation of SLR 8.6 has been a trusted companion for many riders and bred with the DNA of the range-topping 9 series it built a reputation of delivering outstanding performance at a wallet-friendly price. For the SLR 8.6 gets a facelift as well as a top-to-bottom review to ensure it is the perfect bike to help you find a passion for road cycling.

The new Boardman SLR 8.6 Road Bike uses a redesigned, triple butted 6061 aluminium frame evolved from the first generation SLR 8.6 and 8.8, featuring aero tube profiles and endurance geometry. The curved, dropped seatstays in particular not only provide more comfort but give the bike a purposeful look. Full carbon forks save weight and also vitally reduce vibrations, giving increased comfort and increased confidence to push on and start to better your times with every ride. Riders loved the drivetrain on the previous SLR 8.6 because of its great gearing range - this has been updated and increased so whatever may lie on your route, you'll have the gears to beat the challenge.

Finally, 25mm Vittoria Zaffiro tyres have been selected as they're grippy, comfortable and fast but also puncture-resistant meaning you can put in the miles and give your full focus to the ride.

Check out the rest of the Boardman Road bike range
Boardman SLR 8.6 Womens Road Bike - Extra Info
Bike build available by our expert bike technicians. Learn more

Unlimited lifetime safety checks

Lifetime guarantee on frames and rigid forks*

Cyclecare available
*Please see our T&Cs here
More About The New Boardman SLR 8.6 Road Bike
Reliable gearing with great range

Part of the reason for Shimano's incredible reputation is their drive to make every product in their range the best it can be. The Shimano trickle-down technology programme ensures that everything they learn on their top-end components makes it into the rest of their range. The Claris R2000 groupset found on the SLR 8.6 features Dual Control levers and a Hyperglide cassette, technologies developed on the top-tier Ultegra and Dura-ace groupsets. On the SLR 8.6 the drivetrain is fitted with a 11-32T cassette paired with a 50/34T chainset to give a wide range of gears meaning hills won't be an issue whether you like to get in a low gear and spin or get out of the saddle and charge up inclines.

Lightweight alloy frame and Carbon Forks

Inspired by the higher-tier Carbon-framed bikes, the SLR 8.6 gets dropped chainstays and clean lines, thanks to smooth welds, delivering a bike with looks that back up its amazing spec value proposition. Carbon forks soak up those small vibrations thereby smoothing out the road and making all-day rides more achievable and enjoyable.

The little things that matter

With Chris Boardman as Chairman of the company, Boardman have a wealth of experience to draw on and are always looking at the fine details when developing bikes. Using data from hundreds of bike fits and insight from bike fit experts, they have made simple changes to the touch points of the bikes. They've worked to develop a range of saddles using advanced pressure mapping and real-world testing to make sure any saddle on a Boardman bike is going to suit the majority of people riding it. Bar width and crank length are also reduced for different frame sizes to make sure they are suited to the fit needs of real cyclists, not just based on old traditions. These changes also reduce the rider's frontal area, which has been wind tunnel tested to reduce drag, meaning less effort required for the same speed!

Boardman SLR 8.6 accessories

Shimano PDR 550 Pedals will give you even more power as cleated pedals enable a much more efficient pedal stroke. To give you confidence to take your new bike anywhere the Kryptonite Evo Mini7 lock and flex cable are lightweight but incredibly secure, the loop cable making sure your front wheel is locked up too. And, to keep you riding all year round SKS Raceblade Pro mudguards will keep you and your bikes clean and mud free

Maintain your Boardman SLR 8.6

If you plan on using your Boardman SLR 8.6 regularly, then we'd recommend our CycleCare services to make sure your new bike stays in top shape. Just like the annual service you'd get done on your car, we'll check your bike's components depending on the service you choose, then make any repairs and make sure your bike is safe to ride. On the subject of safety, you're also welcome to bring your Boardman SLR 8.6 to any Halfords store for unlimited safety checks at any time.

Our guarantee

Thanks to our confidence in the high quality bikes we sell, Halfords offer a lifetime guarantee on all frames and rigid forks, so you can ride your Boardman SLR 8.6 safe in the knowledge that it's built to last.
Size Guide
Click to find out how to measure your inside leg