A guide to winter road bikes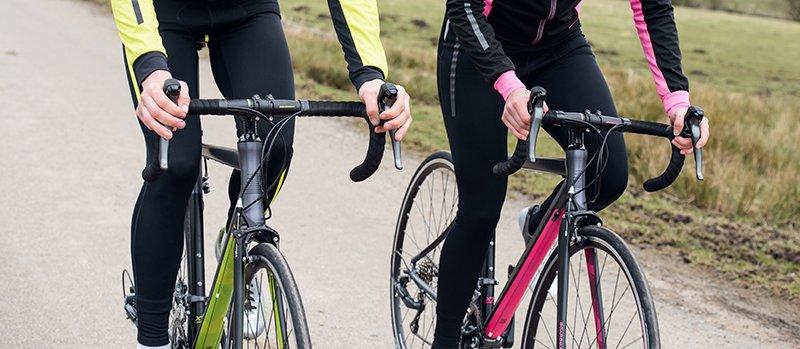 What is a winter road bike?
A winter road bike is a bike that you ride during the winter.
Simply put, it's a bike that's built from sturdy and hardwearing components that you are happy to ride during the wind, rain, sleet and even snow of the winter without worrying about it too much.
Winter bikes are built for comfort and reliability, not speed. They're designed to make long, slow winter miles as comfortable as possible.
A classic winter road bike
A classic winter road bike has a metal frame, usually aluminium, and sometimes steel. Basically, anything but carbon!
The gears and drivetrain (groupset) and other components will be lower-end. Functional but not flashy, they may be parts that you've swapped from your number one bike or a combination of older or even second-hand parts.
You're likely to have mudguards, wider tyres and disc brakes for stopping power in all weathers.
We recommend fitting some accessories too, including a set of front and rear lights. A lot of riders are running lights day and night. We think anything that improves visibility is worth it.
Why should you own a winter bike?
A winter bike is all about protection – protecting you and your best bikes(s) from the elements.
It's a bike you can ride without worrying. You can ride when it's cold and wet, and there's salt on the roads. It's fitted with reliable kit that won't let you down when you're 50 miles from home.
On a practical level, using your winter bike means you won't be wearing out expensive wheels, cassettes and chains on your best bike.
Winter bikes are fitted with a comfy saddle and mudguards that keep you warm and well as you clock up the miles. Wider tyres improve comfort, and disc brakes improve stopping power.
And when spring rolls around, you'll have hundreds of miles in your legs, and when you switch back to your best bike, you'll be flying.
How to buy the best winter road bike for you
Like the sound of all that? Here's what to look for if you're in the market for a winter road bike:
The comfort factor
As any serious cyclist will tell you, winter miles mean summer smiles. By building a solid base of mileage during the winter, you're maintaining and improving your fitness for the summer season. You'll also maintain your weight (unless you indulge too much over Christmas)!
If you're looking to invest in a winter road bike or are considering building one yourself, here are some of the things to look for:
Frame and forks
A metal frame is a must for a winter bike. Aluminium, steel or even titanium are perfect.
You'll want to be comfortable as you're clocking up the miles, so look for a forgiving frame design that's comfortable.
Adventure and gravel bike or cyclocross bikes can make suitable winter hacks because of their relaxed frame designs, disc brakes and wide tyres.
Mudguard mounts
Mudguards are an absolute must in winter. They'll prevent you and certain parts of your bike from becoming a sorry mess as you ride along. Mudguards will also stop you kicking up spray into the rider behind you – which is bad bike etiquette.
The best mudguards are those fitted to frame mounts. They're stable and secure and are easier to install than other types of mudguard.
If your bike doesn't have mudguard mounts, there are mudguards available that clip, strap or tie on to the frame. You can read more about mud and muck protection in our mudguards buyers guide.
Disc brakes
No matter whether they are cable or hydraulic, disc brakes provide better stopping power than rim brakes, especially when it's raining, which makes them ideal for winter training rides.
We recommend fitting your winter bike with disc brakes if possible, but if you can't then v-brakes will be fine – just increase your stopping distances when roads are wet and slippery.
Tyre clearance
British roads in winter tend to be more rutted than the surface of the moon and get worse during winter as tarmac cracks, so we recommend running a set of 28mm or 32mm tyres on your winter ride.
While slightly wider than the 23mm or 25mm tyres most road riders normally run, the difference in performance is negligible.
One benefit of running wider tyres is that they have a larger contact surface with the road than thinner tyres. This can improve comfort as well as traction, giving a safer and more stable ride – particularly if you're riding on wet and greasy roads.
Affordable, yet dependable components
Riding a winter bike with top-end gears and components isn't a great idea. Exposure to the elements will wear them out quickly. The winter weather tends to grind wheel rims, chains, chainsets and cassettes into submission, so stick to parts that you can afford to replace.
Look for low-cost, reliable groupsets and components at the low- to mid-range. You'll be getting tried and tested technology at a great price. It may be slightly heavier, but that's not a problem when you're looking for reliability.
Gearing
A 23-10 tooth rear cassette may be perfect when you're powering yourself around during the summer, but it's not suitable for long, slow winter rides.
Instead, choose a wide gear range and don't be afraid to drop it onto the small ring at the front – it's about spinning and tempo, rather than flat out speed.
Winter bike wonderland
At Halfords, we've got a huge selection of affordable road bikes, adventure bikes, gravel bikes and cross bikes that are perfect for raising smiles during those winter miles.
If you're handy with a spanner, we've got everything you need to transform your bike into a winter warrior, all available with free delivery when you spend over £40.