The Best Hybrid Bikes for Women
Hybrid bikes have rapidly risen in popularity over the years, particularly amongst commuters and those looking to up their fitness game. Providing versatility and comfort, hybrid bikes are an excellent option whether you're cycling in the city or exploring further afield.
Whatever your reason for choosing a hybrid bike, you can be certain there is one out there to suit your needs and budget. If you're unsure where to begin, our handy guide to the best women's hybrid bikes covers the key features and benefits to help you make a more informed decision.
What is a hybrid bike?
Electric technology often springs to mind when we hear the word 'hybrid', but when we talk about hybrid bikes, we just mean a bike that combines the benefits of road and mountain bikes. As result, hybrid bikes are a fantastic choice for all-purpose cycling.
Hybrid bike tyres are thinner than chunky mountain bike tyres, meaning they're faster on the road. However, their upright seating position and flat handlebars make them more comfortable than road bikes.
With their reputation of being a strong 'all-rounder', hybrid bikes have been embraced by those looking for a healthier and more sustainable mode of transport during their daily travels. So, whatever your typical day looks like, a hybrid bike is an efficient way to get from A to B.
What's unique about a women's hybrid bike?
Before we reveal our top picks, you may be wondering how and why hybrid bikes for women differ from those designed for men.
Size is the main variation, as women are typically shorter than men and often have narrower shoulders. Choosing a hybrid bike with the right geometry to fit your proportions will allow for a more comfortable cycling experience.
Saddle measurements are perhaps the most notable alteration, given that women typically have wider sit bones than men. A wider saddle helps to create maximum comfort and alleviate pressure on the pelvis.
Hybrid bikes for women often have a shorter distance between the saddle and the handlebars, also known as the 'reach', given than women typically have shorter torsos. A bike reach that is too short can result in cramping and can impact steering. A reach that is too long can result in feeling overstretched and place pressure on your back.
Narrower handlebars provide more ease to those with smaller shoulder widths, although other components such as crank length, stem length and brake levers may also be tweaked to provide additional comfort.
At Halfords, we understand the importance of having a bike fit for purpose, which is why all our bikes come in a range of frame sizes to fit cyclists of all proportions. If you are unsure of the best bike to suit your needs, just head in-store and ask one of our experts for assistance.
Which women's hybrid bike features are a must-have?
The most important features of women's hybrid bikes will largely depend on how you plan to cycle. Consider whether you will mostly use the bike for city commuting or leisurely riding along smooth cycle paths.
Establishing how you will use your bike will allow you to assess specific features and the bike's overall suitability. Here are a few things you'll need to consider:
Suspension
Hybrid bikes come with either rigid or suspension forks. Rigid forks will be lighter and are more suitable for road riding or where a fast commute is needed. Suspension forks help absorb the impact of bumpy roads and tracks and are therefore a great option if you want to mix road riding with parks, bridleways, and canal paths.
Suspension forks can be found on models from Carrera and Boardman to provide even greater control on uneven terrain.
Gears
Halfords understand that every cyclist is different, which is why we stock everything from single speed hybrid bikes from brands like Quella to those with up to 24 gears such as the Carrera Crossfire 2.
1 gear leaves you with only one option if the cycling gets tough while 24 gears give you a variety of options to tackle any type of terrain. However, modern gear systems can mean that you still get a huge difference between the higher and lower gears, with the Boardman HYB 8.8 only having 10 gears for example.
The number of gears is determined by the number of chainrings near the pedal and the number of options at the back, which is usually several different size cogs on an external 'cassette'. So, if you have 2 chainrings and 8 cogs, you have 16 options.
Gear choice is very personal but key considerations should be based on terrain type, ride length and overall maintenance.
Brakes
Rim brakes are the most common bike brakes, with pads that grip to the wheel rim. The advantage of rim brakes is that they are easy to maintain and are simple to replace.
Mechanical and hydraulic disc brakes are also found on hybrid bikes. The advantage of disc brakes is that they offer greater braking control across a variety of conditions which is why they're popular throughout all disciplines of cycling. With a direct transfer of power, hydraulic brakes have incredible stopping power and give unparalleled feel to the rider.
Many of our hybrid bikes are fitted with hydraulic disc brakes to provide swift stopping power, including the Voodoo Marasa.
Bike frame materials
Aluminium is a common material used for bike frames as it's lightweight, robust and affordable. That's why the majority of the hybrid bikes Halfords stock are aluminium frames, including brands such as Boardman and Carrera and most Apollo bikes. Steel is a great lower-cost material, offering both strength and durability and is perfect for those looking for a budget hybrid bike option.
Handlebar shape
Different shaped handlebars can offer a completely different cycling experience, so it's essential to pick the right shape to suit you. Most hybrid bikes come with flat handlebars which suit most cyclists as they allow you to sit in a comfortable upright position, giving you greater control and visibility of what's ahead. Bars which sweep upwards help to encourage a more upright riding position, great for helping you look forward without craning your neck.
Tyres
Larger tyre widths are generally fitted for greater comfort. Halfords hybrid bikes are fitted with the type and width of tyre that best suit its capabilities. So, a hybrid bike best suited to urban environments will be fitted with faster, narrower tyres but wider off-road tyres are fitted elsewhere. Whatever tyre we fit, we also check that grip is not compromised and that they will perform in wet weather.
Our top picks
You're now familiar with the ins and outs of women's hybrid bikes but where do you begin in finding the right one to suit your style and budget? We've narrowed down our top five favourite hybrid bikes for women, all offering a unique set of benefits:
Apollo Elyse
Whether you're tackling steep hills or gliding through the countryside, the Apollo Elyse is the hybrid bike that does it all. Its 18-speed gearing and lightweight alloy frame allows you to cycle along with ease and comfort. For those who love options, the Apollo Elyse is also available in multiple colours and offers great value for money.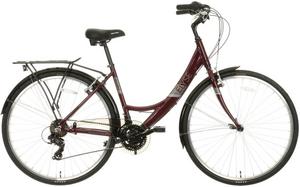 Apollo Elyse
Pendleton Somerby
Created in collaboration with Olympic champion Victoria Pendleton, the Pendleton Somerby hybrid bike is perfect for those who love style and ease. Available in a variety of retro colours including mint and maroon, the 7-speed Pendleton Somerby is exclusive to Halfords and provides efficient cycling, classic design, and an overall enjoyable ride. There's also the option to add a front wicker style basket, useful for shopping and daily commutes.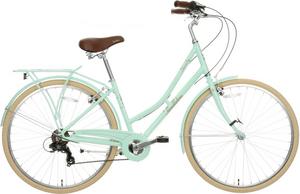 Pendleton Somerby
Carrera Subway 1 women's hybrid bike
Providing versatility and control, the Carrera Subway 1 is packed with features to offer a comfortable and hassle-free ride. Including a memory foam saddle, puncture protection tyres, 16 easy to use gears and mechanical disc brakes this is a brilliant, safe and comfortable urban hybrid.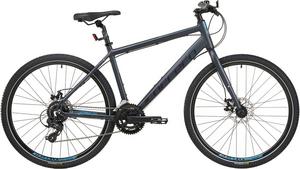 Carrera Subway 1
Carrera Crossfire 2 women's hybrid bike
The Carrera Crossfire 2 is an excellent option for those wanting the option to ride on mixed terrain thanks to the front suspension forks which offers greater control and comfort. The 24-speed Shimano gearing makes it easier to climb hills while the lightweight aluminium frame allows you to quickly gather momentum.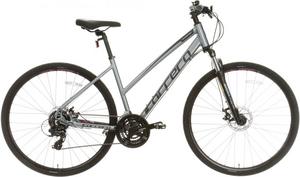 Carrera Crossfire 2
Boardman HYB 8.9E
Although a costlier option, the Boardman HYB 8.9E is the electric hybrid bike that takes you further, whether you're looking to cycle for fitness, commuting or leisure purposes. Containing a removable battery that covers up to 60 miles, the Boardman HYB 8.9E is perfect for offering additional power on longer rides. The bike also includes Tektro Hydraulic Disc brakes to offer more powerful braking. You can take advantage of the FAZUA app which contains GPS navigation and helps you get the most out of training with your bike.
Boardman HYB 8.9E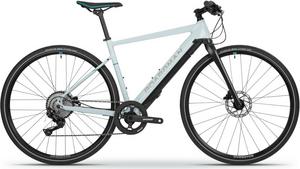 Take a step towards more efficient cycling today and explore our full range of innovative women's hybrid bikes.