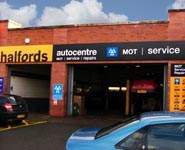 Halfords Autocentre Cheadle
164 Stockport Road Cheadle , SK8 2DP
What customers are saying about us
Wheel alignment service falsely advertised
I booked my car in for a 4 wheel alignment. One of the reasons I chose Halfords Autocentres was their product description said I'd get a printout with the vehicle alignment readings before and after the service. I asked for this when collecting the car and was told "we don't do that" I contacted Halfords to request a refund and that they amend their website to remove the incorrect product description. After 12 days I'm still awaiting a response.
Brilliant service
Simply outstanding.
Great customer service from Halfords…
Great customer service from Halfords Cheadle. The team at National tyres were brilliant and so helpful. New tyre fitted within the hour. Great service.