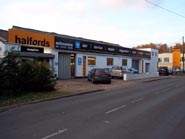 Halfords Autocentre Sandhurst
2 Vulcan Way Sandhurst , GU47 9DB
What customers are saying about us
Poor customer experience
Car dropped off as requested, 15 minutes early prior to MOT test. Told it would be an hour. I returned just after an hour only to told it would be a further 30 minutes! Why did you not think it was appropriate to inform me prior to making my return journey to collect my car?? Car required new tyres which the Halfords representative confirmed price (which I agreed) and for a next day fitting and MOT retest, only to be told the next day that they could not supply the tyres and recommended I source tyres elsewhere and rearrange MOT retest following..
Happy with the work carried out
Happy with the work carried out at the Sandhurst Halfords AutoCentre. I had all four tyres replaced on my car, the price was good, the centre manager was helpful and also called me as soon as the work was completed. I highly recommend this centre from my personal experience and plan to use this centre again soon for brake disks and pads replacement
Stock availability not linked to appointment offered
Offered a 12.30 appointment for fitting a battery but when I turned up was told battery wasn't expected to be delivered until 1.30 pm. Lack of joined up thinking!