Halfords Silicate Antifreeze Concentrate 2 Litres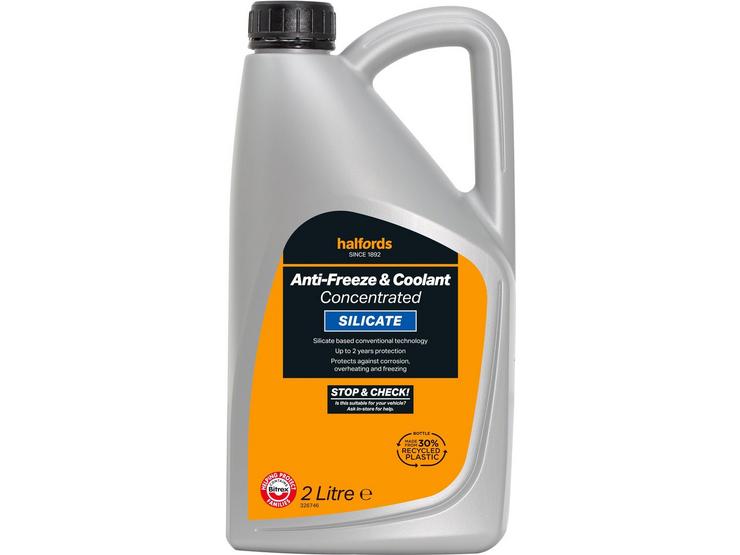 10 people are viewing now
5 purchases during last 48 hours
Halfords Silicate Antifreeze Concentrate 2 Litres
Technology : Silicate
Antifreeze Type : Concentrate
Size : 2 Litres
Halfords Silicate Anti-Freeze Concentrate 2 Litres
The Halfords Silicate Anti-Freeze Concentrate conforms to BS6580:1992 and has a temperature range of +108C to -34C. It is suitable for use all year round and has a 2 year life.
Features & Benefits:
2 Year Life
Suitable for all year round - anti-freeze / coolant
Temperature range from +108°C / -34°C
Silicate (IAT) based Standard technology
Conforms to BS6580:1992
Corrosion protection
When mixed to 50% Anti-Freeze and 50% Water Freeze protection is -34°C and Coolant protection is 108°C
When mixed to 33% Anti-Freeze and 67% Water Freeze protection is -17°C and Coolant protection is 104°C
Hazards & Warnings:
Harmful if swallowed
May cause damage to organs
Additional Note:

"We now put Bitrex in our screenwash and anti-freeze products, to help protect your family. Officially the world's most bitter substance, just a tiny amount of Bitrex makes our products extremely unpalatable - and therefore safer - by helping prevent your children and pets from accidentally swallowing something they shouldn't."
Hazards & Warnings

Warning: Harmful if swallowed
Warning: May cause damage to organs