Bosch Rear Flat Wiper A282H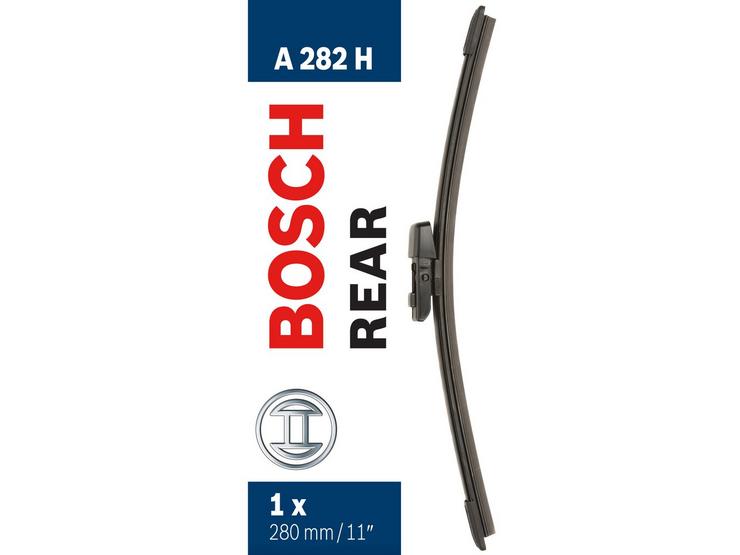 10 people are viewing now
5 purchases during last 48 hours
Bosch Rear Flat Wiper A282H
Manufacturer's quality: Fitted the same as vehicle's original equipment
Expertly fitted in our stores and garages
Bosch Rear Flat Wiper A282H
The Bosch A282H Wiper Blade - Single is designed to replace specially designed flat rear wiper blades. The wiper will ensure that your rear view is clear thanks to its reliable and long-lasting quality.
Aerotwin is always reliable even at high speeds: Absolute visibility is assured by the aerodynamic design – whatever the weather conditions.
The renowned Twin compound wiper blade element assures perfect results: Smooth operation is ensured by the soft wiper blade element back and unbeatable cleaning by the hard wiper element lip with double micro-edge.
Superb wiper performance throughout extended service life. Bosch windscreen wipers rely on innovative technology for maximum visibility and optimal safety.
The Bosch Rear range of plastic wipers is designed to replace specially designed plastic moulded rear wiper blades. With the growing variety & styles of Estate cars, Hatchbacks, Multi-Purpose Vehicles on our roads, rear screen wiper fitments and styles have become more explicit to each vehicle model.
The Bosch range of rear-screen wipers are not just designed to these exact fitments and styles, they also ensure that your view remains unobstructed with reliable, safe and long-lasting high quality.
Included in the Original range is the Aerotwin with a pre-assembled vehicle-specific Original adapter for quick and easy fitting.
Features & Benefits:
Manufacturer's quality: Fitted the same as vehicle's original equipment
Expertly fitted in our stores and garages
Designed to fit with precision
Offers a smooth and safe operation
Dimensions: 280mm
Replacement Part for Specially Designed Wiper Arms
High-Quality Rubber
Integrated rear quick clip connections for simplified installations
Natural rubber with graphite coating for quiet application
OE style blade design for best quality
Compatibility:
AUDI A1 Sportback [8XA] 09.11-10.18 Wiper blade slightly shorter than original part
AUDI A1 Sportback [GBA] 07.18-> Wiper blade slightly shorter than original part
AUDI S1 Sportback [8X] 01.14-> Wiper blade slightly shorter than original part
BMW Serie 2 Gran Tourer [F46] 06.15->
MERCEDES-BENZ Serie GLC [253] 12.18-> Wiper blade slightly shorter than original part
SEAT Ateca [KH7] 04.16->
SKODA Fabia [5J2] 06.13-12.14 Wiper blade slightly shorter than original part
SKODA Yeti [5L7] 05.09-12.17
VW (VOLKSWAGEN) e-Golf [BE1,BE2] 03.14->
VW (VOLKSWAGEN) Golf Alltrack [BA5,BV5] 11.14-> Wiper blade slightly shorter than original part
VW (VOLKSWAGEN) Golf Sportsvan [AM1] 02.14->
VW (VOLKSWAGEN) Golf VI [5K1] 10.08-11.12
VW (VOLKSWAGEN) Golf VII [5G1, BQ1] 08.12->
VW (VOLKSWAGEN) Golf VII Variant [BA5, BV5] 04.13-> Wiper blade slightly shorter than original part
VW (VOLKSWAGEN) Polo [6R1,6C1] 06.09->
VW (VOLKSWAGEN) Polo [AW1] 06.17->
VW (VOLKSWAGEN) Touran [5T1] 05.15-> Wiper blade slightly shorter than original part