Signs Your Electric Scooter Needs A Service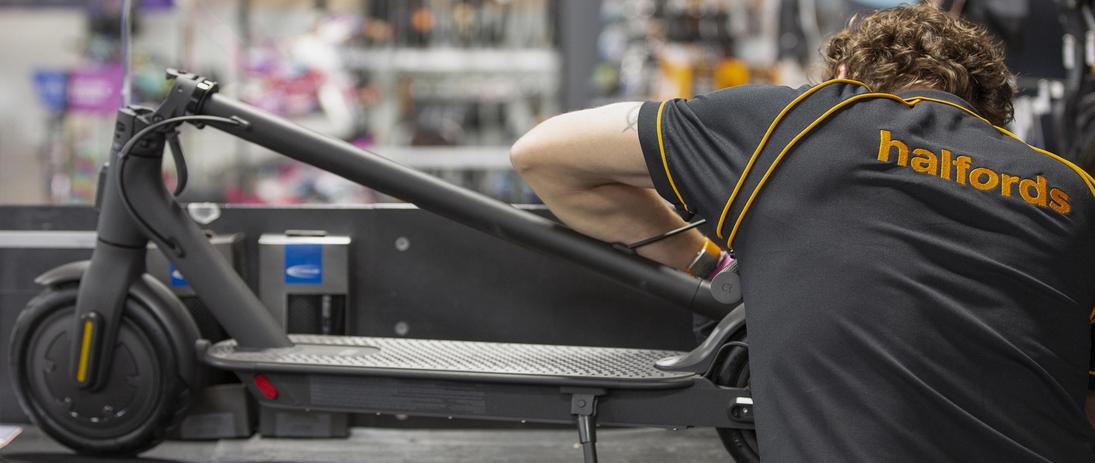 Electric Scooters are a fun way to travel and, once you've found the right one, you'll want to make sure everything remains in working order.
If you're new to electric scooters, you may be unsure what to look out for when it comes to servicing and repairs. In this article, we'll break down common e-scooter maintenance issues and the ways Halfords can help with our E-ScooterCare service.
Common E-Scooter Issues
As with any vehicle, e-scooters can encounter a number of common issues over time. Here are some key signs to look out for:
Brakes less responsive
After excessive use, e-scooter brake pads can wear off or 'down' and cables can stretch or fray. If you find your brakes are becoming less responsive, it could be time to get the brake pads or brake cable replaced.
Wheel wobbling
Extensive use of your e-scooter can lead to wear and tear on your wheels, significantly reducing stability and causing wheels to shake from side to side. If this is the case, it's important to have a thorough assessment of the front and rear wheels. Some e-scooter models may need to be sent away for repair.
Error code and beeping
Depending on your electric scooter, you may see an error code displayed followed or a series of beeps to warn you of a potential issue. There could be a variety of reasons for the error from battery issues to motor faults. If you experience this, it's a good idea to get your e-scooter serviced as soon as possible to rectify the problem. Some e-scooter models made need to be sent away to fix the error code.
Damaged fittings and accessories
There's the possibility that your e-scooter issue could be related to problems with fittings and accessories such as broken mudguards or faulty rear lights. If you require replacement parts & accessories, we have a wide range of products and free accessory fittings as part of our e-scooter care. Some e-scooter models made need to be sent away to repair broken fittings or accessories.
Folding mechanism not working
If the folding mechanism on your e-scooter is not working, this could be down to several reasons. Firstly, check that the handlebars are not stopping the scooter from folding. Alternatively, there could be debris trapped in the latch, preventing it from folding shut. Some e-scooter models made need to be sent away to fix the broken folding mechanism.
Flat tyres
As with any vehicle, e-scooters can be prone to tyre punctures and low tyre pressure. With our E-ScooterCare service, we can fix this for you in no time. We also offer tyre or tube replacement services too.
How our E-Scooter Services Can Help
Now you're aware of potential e-scooter wear and tear, what happens when you need to get it fixed? With vehicles always prone to problems, it's a good idea to be part of a service plan to give you peace of mind that you are covered should you encounter an issue.
At Halfords, we have several options to ensure that your electric scooter remains in tip top condition all year round.
Free E-Scooter Health Assessment
With our free e-scooter health assessment, we'll give your e-scooter a thorough check to ensure everything is in full working order. Appointments consists of a 30-minute booking slot and include the following:
Visual damage checks
Handlebar, steering and headset​ checks
Front and rear wheel checks – including tyre pressure, cables and brake pads
Electric function checks – including power, audio or visual error codes and motor
E-Scooter Care
Our e-scooter care service is excellent value and always on hand to help. At just £45, we'll keep you covered for a whole year. We offer excellent benefits as part of this service including:
Unlimited puncture repairs worth over £50​
Unlimited 15% off scooter and bike accessories​
Unlimited 15% off E-Scooter parts​
Unlimited brakes adjustment (worth over £30)​
E-scooter checks with tyres inflated​
Inner tube sealant service to prevent punctures - Inner tubes protected with Slime Tube Sealant
Now you're aware of the potential issues that could occur with your e-scooter, why not get that extra reassurance and get yourself covered with E-ScooterCare? With our e-scooter services, you can have the confidence to keep moving all year round.
It is illegal to use an e-scooter on a public road, pavement, cycle lane or bridleway. E-scooters should only be ridden on private land with the permission of the landowner.