Sports GPS Buyers Guide
Find out more about the different types of sports GPS and how they can help you push your performance to the next level.
Sports GPS Buyer's Guide
GPS has a wide range of uses in sport, and is a popular way for people to track their performance when training.
GPS technology is extremely useful for all sorts of sports & outdoor activities because it lets you monitor your position as well as other key info such as speed, distance, and pace. Some sports GPS products also show you other useful data, such as heart rate and calories burned. Whether you train for fun, fitness or for competition, seeing how far you've run, cycled, trekked or hit your shot can be a great motivator, and it can help you to keep pushing for your personal best.
Types of Sports GPS
GPS Cycle Computers
GPS Bike Computers can be fixed onto your handlebars with a mount and provide lots of useful and detailed info to help you get the most out of every ride.
Benefits
Track time, distance, speed, location, elevation and calories burned
Many models can be paired with other devices to offer even more info such as cadence, power and heart rate
Your stats will be shown in real time whilst you're cycling and will also be recorded for you to review at the end of your ride
Higher end GPS Computers provide route guidance, just like the Sat Nav in your car
Brands such as Garmin offer smartphone apps that work with your device
Many are also compatible with popular third party apps such as Strava, enabling you to show off your routes and compete with friends
GPS Running Watches
Worn just like a normal wristwatch, GPS running watches track how far and how fast you've run.
Benefits
Accurately record time, distance and pace
Save training data on an internal memory
Create workouts or race against previous lap times
Upload data onto your PC and share your progress with other runners online
Many are compatible with heart rate monitors, letting you track your heart rate as well as calories burnt
Some work with third party apps, so you can compete against your friends
Handheld GPS
Handheld GPS systems are typically used by hikers, campers, and explorers to track their location and where they are headed.
Benefits
Pinpoint your position precisely
Display vital info such as terrain and difficulty
Designed to work even under tree cover and in canyons
Often used for 'geocaching', which is similar to a high-tech treasure hunt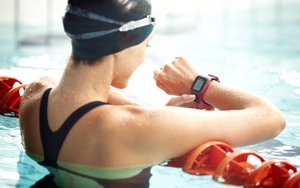 Sports GPS at Halfords
Our fantastic range of sports trackers and fitness GPS products can be ordered online for delivery to your home, work or to your local store.
View all Sports Trackers and Fitness GPS