Child car seat icons explained
---
When you come to buy a child car seat, you may notice a variety of icons on our website and in-store to highlight the features and benefits. These icons signify safety, comfort, and ease of use features, as well as the guarantee on the product.
With child car seats now offering a wide variety of features, it can be a challenge to understand what they all mean. To help you make sense of it all, we've created this child car seat icon summary, so you can make an informed decision on the right car seat for your little one.
Safety feature icons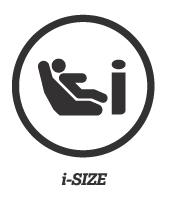 i-size is an EU child car seat safety regulation, also known as R129, which makes it easier to fit child seats into your car using the ISOFIX mounting points in your vehicle. With ISOFIX, children can stay rearward facing for longer, providing improved side impact protection.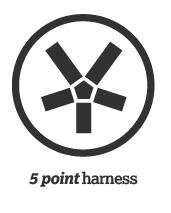 A 5-point harness offers maximised protection for your child in the event of a collision, keeping them restrained and secure. It's also ideal for growing children as the straps can be easily adjusted to adapt to their body.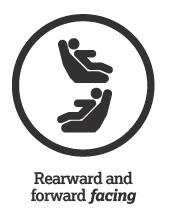 As the name suggests, rear and forward-facing car seats allow your child to face both rearward and forward. It's advised that children face rearward for as long as possible, as this provides improved protection. When you've reached the stage where you child is ready to face forward, this can be done in one simple turn.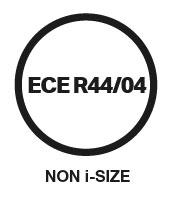 Non-i-size car seats are also known as R44/04. The difference between i-size (R129) and R44 is that i-size is based on the height of your child, while R44 is based on the weight. The /04 means that the car seat is the latest version of the regulation and meets the European Safety Standard.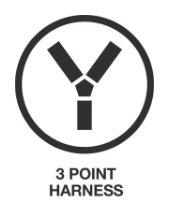 A 3-point harness straps over your child's shoulders and between their legs. While a 5-point harness provides additional security, a 3-points harness can be a useful option for older children as it allows for greater movement of the neck and spine.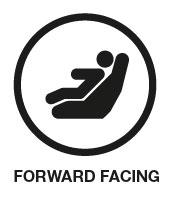 Forward facing car seats are the next option for when your child has outgrown their rearward facing seat. Forward facing seats are available as Group 1/2/3 seats which are suitable for both toddlers and children.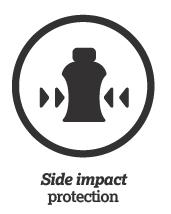 Side impact protection is a safety system to ensure that children are best protected in the event of a side collision. Many child car seats are now designed with side impact protection technology to help absorb the impact of a side crash.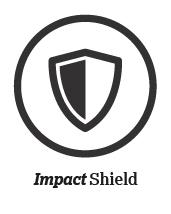 Shield technology refers to an impact shield that is fastened around the front of your child while they are in the car seat. The shield helps distribute the impact of a collision, reducing strain on the neck, head, and shoulders.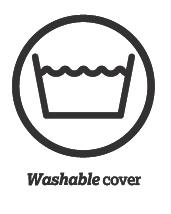 When it's time to clean your child's car seat, a removeable, washable cover makes the task easy and convenient.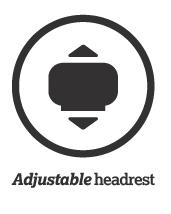 Adjustable headrests are ideal as your child can remain comfortable as they continue to grow while using the same car seat.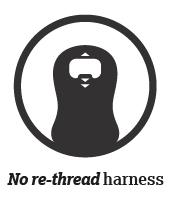 A no re-thread harness means you can adjust the harness straps on the car seat without needing to manually re-route them.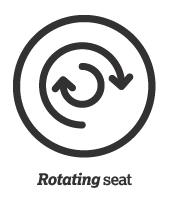 Rotating car seats make it much easier to get your little one in and out of the car. A 360-degree swivel allows your child to face forwards or rearwards, adapting to their changing needs.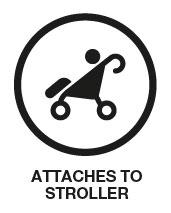 Some child car seats are part of a travel system and can be easily attached to a stroller for greater convenience – perfects for parents on the go.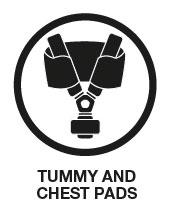 Tummy and chest pads can be found on the harness of the car seat. Not only does it prevent the harness from slipping but it also provides an added layer of comfort.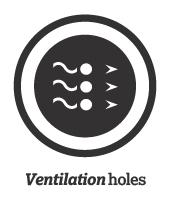 Many child car seats come with ventilation holes to help keep the seat at a comfortable temperature, ensuring your little one stays cool.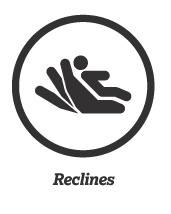 Reclining child car seats are ideal as you can control your child's position. It can also help them drift off to sleep more easily.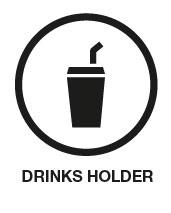 A drinks holder is a handy addition to your little one's car seat as it's useful for holding drinks and snacks during longer journeys.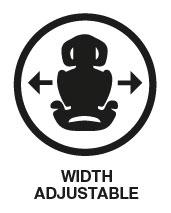 The ability to adjust the width on car seats is a useful feature as they adapt to your little one's growing frame.
Guarantee icons
We always clearly display if there is a guarantee on any of the child car seats we stock. Guarantees range from 1 year – 4 years and are displayed as follows: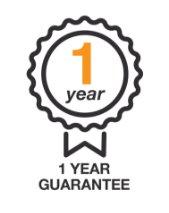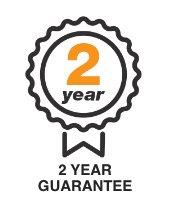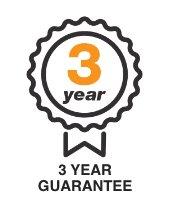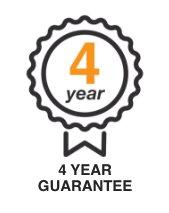 That concludes our breakdown of our child car seat icons that you may see in-store and online. If you have any further questions when it comes to finding the best car seat for your child, please speak to one of our friendly experts in-store or take a look at our car seat buyers guide.
For more jargon busting, you can also check out our child car seat glossary.