Guide to i-Size Car Seats
---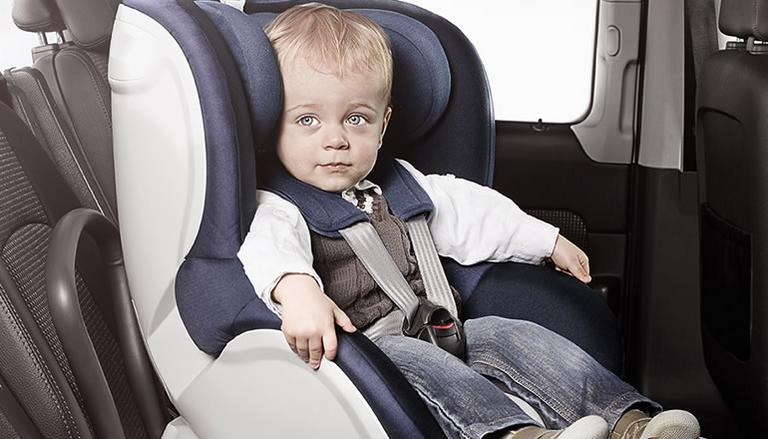 When choosing a new car seat, you need to make sure you find the right size seat for your child – doing so is important for safety and comfort.
While car seats used to be decided based on weight, you can now also get i-Size seats that are based on a child's height. But what's different about i-Size seats and what size does your child need? Here's everything you need to know.
What are i-Size car seats?
i-Size, or Regulation R129, is a car seat legislation that launched in 2013 and uses a new way of crash-testing car seats for babies and children, including a new side-impact test.
Instead of using a child's weight to determine a car seat, i-Size seats are chosen based on the height of a child to ensure a child is the correct size for the seat.
What's different about i-Size seats?
There are some pretty major safety improvements with i-Size regulations. Choosing the best car seat becomes a bit more straightforward as it's measured by height rather than weight, which is a better gauge of how well your child will fit in the seat. Kids can grow at wildly different rates - we've all seen a growth spurt kick in with no warning! Age and weight are still helpful factors, but height makes it easier to see when it's time to move up a seat.
i-Size runs alongside R44 (the regulation that governs the weight-based car seat groups, which you may have also seen). Although i-Size is the preferred option for many parents - thanks to an easier to understand system, improved safety features and an element of futureproofing - R44 seats aren't expected to be phased out for a few years yet. So, while you may not necessarily need to upgrade your current car seat (provided it meets current regulations) it's worth considering an i-Size seat in the future.
Here are the key i-Size car seat benefits:
Improved protection for side and front impacts, with a focus on the prevention of head and neck injuries.
Rearward facing travel (safer for younger children) mandatory up to 15 months.
All i-Size seats promote and are fully compatible with ISOFIX cars.
Child height dictates seat choice, not weight.
Shop all car seats
What is ISOFIX?
One of the major benefits of i-Size seats is that they're fully compatible with ISOFIX systems – but what is ISOFIX?
ISOFIX car seats attach directly to the chassis of the car, rather than using a seatbelt. ISOFIX metal arms attach and lock on to a U-bolt-like piece of metal at the back of the vehicle's seat. This means that the car seat remains in place and does not rely on the child's weight to keep the seat in situ. All i-Size car seats are ISOFIX compatible, so if you have an ISOFIX compatible car, you'll be able to attach your new i-Size car seat more securely, whether through an accompanying base or directly (make sure to check whether your chosen car seat requires a separate base).
Learn more about ISOFIX in our handy ISOFIX guide.
What are car seat bases?
Most i-Size seats sold by Halfords come with an integrated base that is used to secure a seat into a car using the ISOFIX system.
Some seats also have detachable bases. These remain permanently fitted in your car via the ISOFIX system and a car seat can then be easily attached and detached from them. Generally, these are mainly used for baby carriers as you don't want to wake your little one as you carry them from your car to your home, but detachable bases aren't as common in older seats.
The main benefit of detachable car seat bases is their ease of use, as the base is already attached to the car and all you need to do is correctly clip your car seat into it. Most bases will have an indicator that will confirm that a seat is correctly and securely attached, so there's less risk of incorrect setup. Of course, you'll still need to make sure that the base is correctly fitted to the ISOFIX system.
Shop car seat bases
Why is a rearward facing car seat better?
Under the i-Size regulation, rearward-facing car seats are mandatory for babies up to 15 months old, although it's generally advised to use one for as long as possible (up to at least four years old).
Before your baby is 15 months old, its neck simply isn't developed enough to withstand forces from collisions - which can lead to serious and often life-threatening injuries. Rearward-facing car seats have been proven to be five times safer than forward-facing as they restrain the head and spread the impact, rather than throwing the head forwards.
Shop rearward facing car seats
i-Size Car seat sizing and fitting at Halfords
i-Size seats come in three different sizes, each of which has a rough equivalent within the weight-based sizing system:
0-85cm (approximately G0+ in weight-based system) – rear-facing baby carrier or baby seat using a harness
0-105cm (approximately G0/1/2) – rear-facing baby seat until your child is at least 76cm, then forward facing
100-135cm (UK)/150cm (ROI) (approximately G2/3) – forward-facing child seat
Car seats at Halfords
Once you've chosen the right size seat, Halfords have trained fitters who can show you how to fit your car seat for free*. Pop into your local branch where our fitters will be happy to help you, so you'll be on the road with your little one in no time.
If you aren't sure which child car seat to go for, or would like to compare different makes and models, then start with our car seat buyer's guide, or ask one of our colleagues in-store.
To make it really easy for you to choose the right car seat for your little one, we have also broken down all the features of our car seat range into the following categories:
Simply look out for these icons when choosing your car seat to ensure you're getting all of the features that are important to you.
If you're still unsure and would prefer to talk this through with one of our experts, contact us where we can offer more advice.
Shop child car seats
Introducing the Halfords Motoring Club
At Halfords, we're here to provide you with the best value for all your motoring needs. Join the Halfords Motoring Club today to access a range of amazing benefits and discounts that are designed to keep you moving, keep you safe and keep you saving.
It's free to join and you'll receive money off your MOT, a free car health check and a welcome voucher that can be spent on any Halfords product or service.
Or choose our Premium membership for a small monthly fee (or a one-off payment) to unlock exclusive member pricing on all motoring products and services online and across our stores, garages and Halfords Mobile Experts, as well as a variety of other benefits that will help you to keep moving for less.
With so much to enjoy, this is too good an opportunity to miss!
Join the Halfords Motoring Club today at www.halfords.com/motoring-club.
Join the Halfords Motoring Club