Electric Mountain Bikes Buyers Guide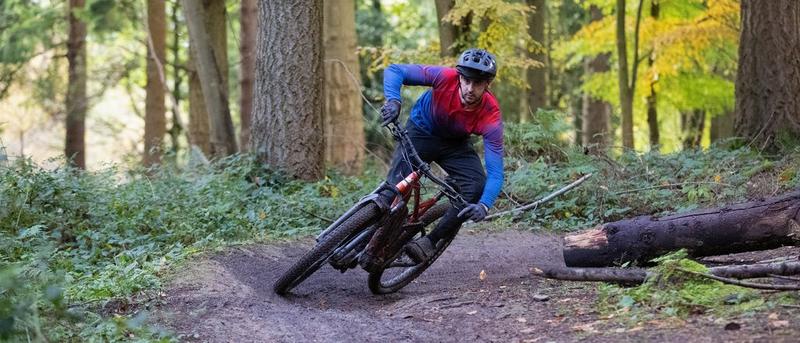 Electric mountain bikes provide power, with a bit less pain which makes them great fun for trails, tracks and mountains.
Sturdy, hardwearing and built for adventure an electric mountain bike is also an excellent choice for commuting, trail riding and even some touring. In this Electric Mountain Bikes Buyers Guide, we describe what e-mountain bikes are, how they work and why one could be right for you.
An introduction to electric mountain bikes
Electric bikes use a battery-powered motor to provide extra power while you're pedalling. If you want to know what e-bikes are and how they work, then check out our Halfords electric bikes hub which is packed full of essential information.
If you're considering buying an electric bike, our mountain bike size guide will help you find the right fit. There are three things you should consider before buying an electric mountain bike: the frame, the motor and the components. In this guide, we look at each of these factors in turn.
Bike frame
The frame is the fundamental building block of any bike, so it's the best place to start for our guide.
Electric mountain bikes (or e-MTBs ) are split into two categories: hardtail bikes and full suspension bikes.
Hardtail bikes have front suspension but nothing at the rear (hence the hardtail). Full-suspension mountain bikes have front and rear suspension.
Hardtail
Hardtails feature a suspension fork at the front and a fully rigid frame at the rear. Keeping things simple with just front suspension means these bikes are easy to ride and are lighter than comparable full suspension bikes. Fewer moving parts mean that servicing and maintenance is a little simpler too.
Electric hardtail mountain bikes are best suited to lighter trails, such as those at your local trails centre. You'll be moving quickly, avoiding obstacles and tackling the technical stuff when it appears.
Electric assistance means that you'll still be flying as the trail flattens out or rises skyward, so don't be surprised if you find yourself enjoying your local loop twice before you head home for the day.
Hardtail mountain bikes are also great utility bikes. If your commute involves some trails, gravel roads or challenging bridleways, then a hardtail e-bike could be a sensible investment. If you're looking for a hardwearing hardtail, check out the Carrera Vengeance E Mens Electric Mountain Bike – a battery-powered beast that's terrific on the trails.
Full Suspension
Full suspension electric mountain bikes are built for the tough stuff. With suspension at both ends, the shocks and bumps from obstacles should be absorbed more effectively.
Full-suspension electric bikes are built for extreme conditions, like challenging technical ascents and punishing and pulsating downhill rides.
You can use the motorised assistance to help you manage rides, accelerating out of corners, up steep rises and over obstacles.
If you like pushing you and your bike to the limits on tricky trails and dangerous descents, a full-suss e-MTB is for you. If you're interested in a top-end full-susser, check out the Voodoo Zobop E-Shimano Full Suspension Electric Mountain Bike. The Zobop comes with SRAM gears and a top-of-the range Shimano motor which. when paired with the 14Ah battery, provides up to 60 miles of pedalling power – that's enough to tackle the toughest tracks and trails.
Hardtail v Full-Suspension
The choice between a hardtail and a full-suspension mountain bike depends on where you want to use the bike and your preferences as a rider.
If you're looking for pure off-road thrills, then a full-suspension electric mountain bike may be more suitable. If you're looking to mix up mountain bike trails with tracks, bridleways and even a little commuting, then a hardtail is a better choice.
Powertrip
All e-MTBs come with an electric motor that's powered by a rechargeable battery pack. On entry-level models, the battery pack is located on the outside of the frame. Higher-end e-MTBs will have more complex electric systems, with the motors, batteries and cables hidden away inside the bike's frame. The Voodoo Bizango-E Shimano Electric Mountain Bike's battery is hidden in a super-sleek case, which looks great and performs even better.
The motors can provide pedal assistance up to 15.5 mph – the legal limit here in the UK. If you want to go faster, you're on your own!
What's powers an e-MTB?
The 'electric' part of an electric mountain bike is formed of two things: a motor and a battery.
The motor is usually placed either at the hub of a wheel or at the crank. More expensive bikes will all use motors at the crank, this is because it offers some serious performance benefits.
Locating the motor at the crank lowers the centre of gravity of the bike which can improve handling. It's also much more efficient at transferring power from the energy to the drive than a wheel-based motor.
Manufacturers can fit sensors to the motor which monitors the power the rider can push through the pedals, which can help the onboard computer more efficiently manage the power delivery – helping you to conserve precious battery power.
All e-MTBs are equipped with a battery, which is usually located on or in the downtube of the frame. The size of the battery is measured in Watt-hours (Wh) or Amp-hours (Ah).
The larger the battery, the longer it will last. Our mid-range Carrera Vulcan E Electric Mountain Bike has a max range of up to 60 miles – enough for an action-packed day of riding.
Don't worry if you're not an electronics expert, you'll find an estimated range provided for each bike. This should give you a good idea of how long a fully-charged battery will last for on a ride. However, hills, speed and rider weight amongst other factors will affect range performance – so don't rely on it to get you home!
Using a head-unit on your bike that's linked to the battery and motor, you can select different levels of assistance. Most bikes come with a variety of assistance levels, from low-level pedal assistance to high-powered turbo support.
More sophisticated electric bikes come with more advanced head-unit that can display useful information, such as speed, distance travelled and battery life and more.
Can I use my e-MTB in the rain?
Mountain biking is (for some of us) about getting muddy and mucky. If you're worried about using a battery-powered system in wet weather, then don't be.
The electric systems that are fitted to mountain bikes are closed and require very little maintenance. The connections between head unit, battery and motor have been designed to ensure that water won't enter them. They're also protected against corrosion and decay and if serviced and maintained correctly, should give you years of riding pleasure.
Components
We've covered the frame and the motor, now it's time to look at components.
The brakes and gears are likely to come from trusted brands such as Shimano and SRAM. There are a whole variety of gearing configurations and ranges to choose from. Like all bikes, as you spend more, the componentry improves, with better gearing, braking and suspension systems.
Alongside the groupset, here are some of the other components you should look out for:
Suspension
Measured in millimetres, the travel of a suspension system is a measurement of how much it can compress when it hits an obstacle. Due to a slight increase in weight, electric mountain bikes tend to have a higher amount of travel, front and rear. 120mm isn't uncommon on hardtails with 140mm (front and rear) not unusual on full suspension e-MTBs.
Dropper and seat posts
Dropper seat posts give the rider the option to flick a button and change the height of the seat post. You can have a raised saddle for riding climbs, then flick a switch and drop it out of the way for some out of the saddle downhill fun.
Wheels & tyres
Electric mountain bikes are heavier than normal mountain bikes, because of the weight of the motor and the battery. As a result, most e-MTBs run on wider wheels and tyres.
Already own an Electric Mountain Bike? At Halfords we are here to support you with life's journeys. That's why we have placed all of our E-Bike user manuals and guides into one convenient place here - which are available for you to read online or download to view as you wish.
Electric mountain bikes are a massive amount of fun and a genuine innovation that could change the way you think about riding.
Shop electric mountain bikes