How To Upgrade your Bike
Pedals
Pedals can make a big difference to your cycling performance. As the main point of contact between you and your bike, they help you drive the power through your ride and so can be a good place to start when upgrading your bike.
There are two options when it comes to pedals; platform or flat pedals and clip-in pedals. It is personal preference whether you opt for platform pedals or clip-in pedals. There are advantages to both, although some would suggest that clip-in pedals are a better option in terms of power, control and safety. Plenty of serious riders still opt for platform pedals though. The majority of entry level bikes come with a basic set of platform pedals made of resin which are a sturdy option that last well but are less effective in terms of performance.
For a quick and easy pedal upgrade, grab a pair of Shimano PDR-540 SPD Pedals-SL Road Pedals. They're easy to fit plus they have a low profile platform and wide pedal providing easy access and greater stability making them ideal for anyone new to clip-in pedals.
Remember, you'll need a pair of cycling shoes with cleats fitted to the bottom if you want to upgrade to clip-in pedals.
If you prefer flat pedals, then these DMR V8 Mountain Bike Pedals are a great upgrade. They have 10 grips on each pedal give you plenty of extra grip which is important in wet and muddy conditions when your pedals can get slippery increasing the chance of a fall.
Saddle
Saddles have one job - to keep you comfortable! A quick upgrade can save you from aches and pains, but also help your bike to perform better.
Going lighter is a quick and easy trick when it comes to saddles. Going for a performance saddle will help to reduce overall bike weight, making it easier to get up hills - and saving you some energy!
The Selle SMP Well 144mm Saddle has a carbon body and minimal padding making it very light weight. This is great if you want to have a go at some more intense cycling such as road-racing or mountain- biking as it will help you to get around that course faster and beat the competition. It has been designed with high mechanical strength materials tested for their durability and resistance making it one of safest seats for new competitive riders so you can have the confidence to ride hard and go for gold!
If comfort is more important than performance, then you can go the other way and get a leisure saddle. These saddles are designed to add additional comfort, making them perfect for longer, leisurely rides where a performance saddle would be more of a hindrance than a help!
The Selle Royal Freeway Fit Relaxed Saddle is made of Slow fit foam which moulds itself to shape of the body's contact points. This guarantees a uniform weight distribution so you will be comfortable during long rides and won't have to keep taking breaks to re-adjust affecting the pace of your ride. The foam also reduces shock and vibration on impact. This means that you won't get any twinges or pains on those bumpy off-road tracks meaning you can tackle any route rather than shying away from those more challenging trails.
Tyres
No-one likes a puncture so a good set of tyres is key to trouble-free cycling! They are your point of contact with the road so need to be able to provide good grip on all different surfaces and in all weather conditions.
Tyres go through a lot of wear and tear as your only point of contact with the road so they will naturally need replacing over time but upgrading to a quality set of tyres will also make your riding quicker and more efficient.
If you're still using the tyres that came with your bike, switch up to Kenda tyres for improved quality. Upgrading your tyres to more durable ones mean that they will last longer so you won't have to replace them as often saving you hassle and money. New tyres will also give you better grip on the road or track, especially in bad weather, meaning that you are much less likely to fall off and injure yourself.
Brakes
A good pair of brakes is not only key for safety but also for performance as they help regulate your speed and control your bike.
Upgrading to better brakes means that you have the ability to stop more quickly when you need to but will also be able to improve the efficiency of your riding.
Take a look our best-selling bike brakes and accessories so you can upgrade the parts of your brakes that need replacing as necessary, such as cables or pads or replace your whole brake system. Just upgrading your brake pads for example can make a real difference and replacing your brakes completely from cable to hydraulic brakes will dramatically increase power and control whilst reducing maintenance time and saving you money.
Wheels
Wheels play a huge part in the feel and performance of your bike making it much lighter and nimbler and dramatically improving handling. Better quality hubs will increase speed, more reliable bearings will mean that your wheels last longer and stronger rims will make riding on rough surfaces more comfortable.
Check out our extensive range of wheels to find the right upgrade for you, according to the type of bike you want to upgrade and the style of tyres you are looking for.
Full Bike Upgrades
You may have reached the point where you are ready for a full bike upgrade. This is often a cheaper option if there are a few parts of your bike that could do with being replaced, or perhaps you just feel like treating yourself!
Mountain Bike Upgrade
Current bike - Entry level mountain bike
Potential upgrade - Carrera Hellcat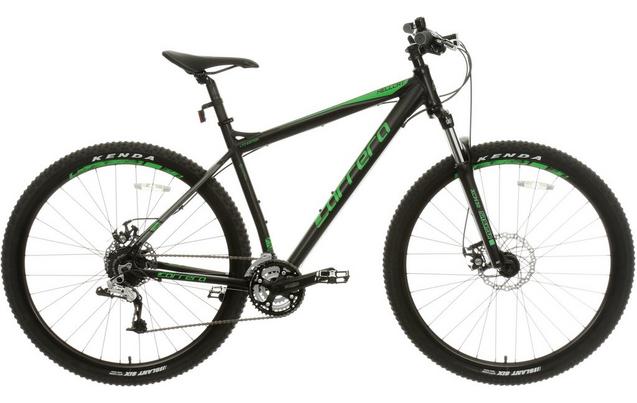 If you currently have a basic mountain bike, the Carrera Hellcat is a great upgrade option. It competes with some of the top mountain bikes on the market in terms of features and spec making it excellent value for money.
The bike features a lightweight alloy frame, weighing in at just 15kg. This means that you will be able to cycle further for longer and start tackling those more challenging routes, adding distance to your ride and increasing your fitness.
It has an impressive 24-speed SRAM gear system which gives you the ultimate control over your ride. It will enable you to cycle in the most efficient way possible adjusting your speed for different gradients and terrains, saving you precious energy for those steep hills and endurance tracks.
It also features Suntour XCM front suspension which will absorb the impact from rocks and tree roots in your path. This means there will be less impact on your hands and arms helping to avoid any injuries.
---
Current bike - Mid-level mountain bike
Potential upgrade - Voodoo Bizango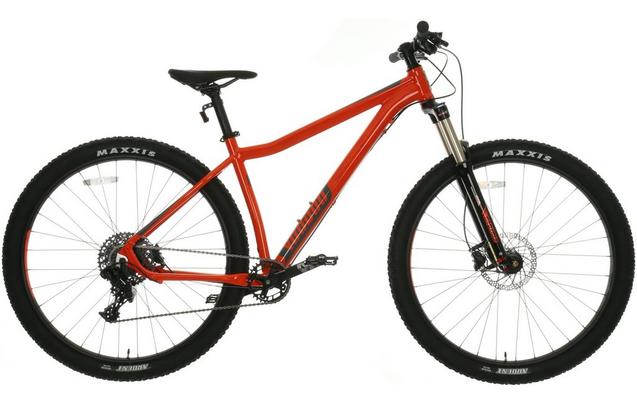 Looking to upgrade your mid-range mountain bike? The Voodoo Bizango is an award-winning bike, and with its impressive range of features, it's easy to see why.
It's Suntour Raidon 32 LOR-DS aluminium and magnesium forks are lightweight yet durable improving control, making climbing easier. Less weight and better control will give you the competitive edge on the track.
The Bizango features 29" wheels with high quality Maxxis Ardent tyres for better traction. This means you will get maximum grip whilst speeding along the track in any conditions avoiding any slips or falls.
It also has top of the range Shimano M315 hydraulic disc brakes, providing excellent control even in tough conditions so you will feel confident to get out there whatever the weather.
---
Road Bike Upgrade
Current bike - Entry level road bike
Potential upgrade - Boardman SLR 8.6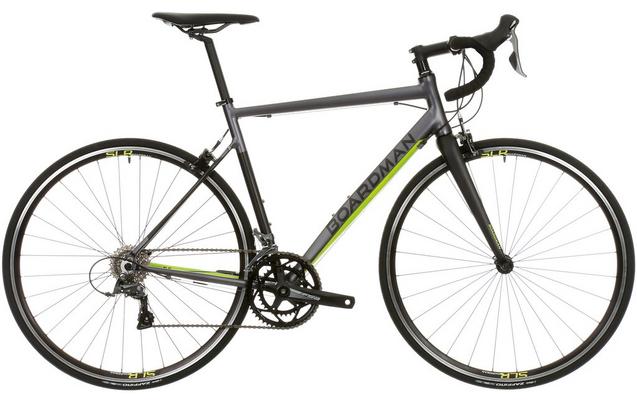 If you have outgrown your entry level road bike, the Boardman SLR 8.6 could be the next bike for you. Featuring classic Boardman design and quality, it is a great piece of kit.
It shares the same new lightweight alloy frame as their top of the range bikes giving you the kind of performance you would expect from a much higher end bike at a great price. The lightweight frame not only improves performance but means it is easier to transport, making it easy to take on public transport for city riding.
It features full carbon forks which are also lightweight and minimise vibrations from the road surface decreasing resistance making for a smoother, more comfortable ride. This means no more soreness on those longer rides so you can easily start to build up the miles and work towards your fitness goals.
---
Current bike - Mid level road bike
Potential upgrade - Boardman SLR 8.9a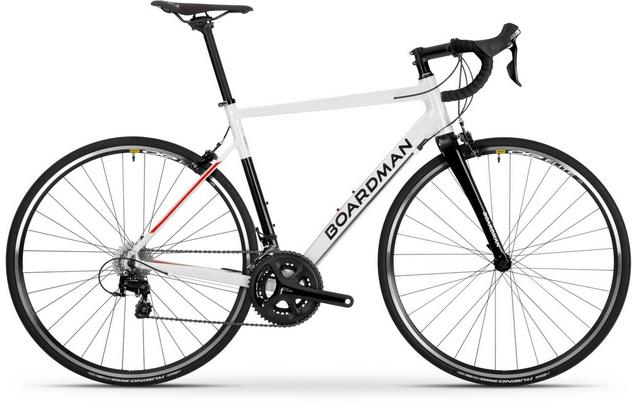 Ready to make a step up from your current bike and invest in a high performance road bike? Then look no further than the Boardman SLR 8.9a. Not only does it look fantastic but will make a massive difference to your riding experience.
The Boardman's new 2018 SLR aluminium frame is stiff making it durable allowing maximum riding efficiency whilst remaining responsive and comfortable. With a full carbon fork and lightweight 22 speed Shimano gearset in addition to its aluminium frame, this bike is light as a feather at just 9.2 kilos, enabling you to get the most out of your ride and continually improve your performance.
It also features Mavic CXP Elite rims with fast rolling Vittoria's Rubino tyres for extra speed. This will allow you to push yourself whilst training or competing and will provide a thrilling ride every time as isn't that what it's all about, after all!
If you'd prefer a full carbon frame that reduces your bike's overall weight even further, then check out the Boardman 8.9c carbon road bike.
---
Hybrid Bike Upgrade
Current bike - Hybrid bike
Potential upgrade - Carrera Crossfire E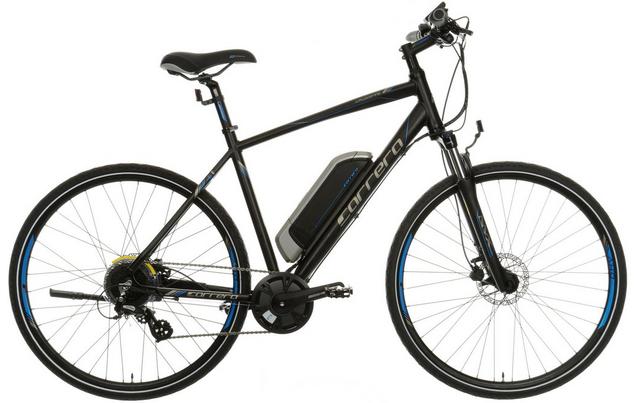 If you currently own a hybrid bike, and fancy trying something a little bit different, why not consider the Carrera Crossfire E electric hybrid bike? Electric bikes give you that extra bit of power when you need it and are a lot of fun to ride.
The Carrera Crossfire E provides provides up to 60 miles of pedalling assistance on a single charge meaning that you don't have to charge your bike very often, making it an economical and efficient ride. It offers 3 different levels of assistance, Climb, Tour and Eco, thanks to its sophisticated Suntour rear hub electric motor system making those tough hill climbs a bit easier so you won't get left behind by your mates!
It also features lightweight alloy frame so you can cover distance without the assistance of the motor just as you would on a standard bike, making it equally suitable for short leisurely rides or longer, more challenging outings.