Balance Bikes Buyer's Guide
---
Balance bikes are the best introduction to two wheels for kids. Your child won't have to worry about pedals or gears, they can simply push off and enjoy the freedom of two wheels. If you want to start them riding as soon as possible, a balance bike is the best way to teach little ones the art of balance before mastering their pedalling and braking skills.
If you're searching for a brilliant balance bike, you'll find it at Halfords. In our balance bikes buyer's guide, we explain what a balance bike is and how it works and select our favourites. 
What is a balance bike?
Balance bikes are cycling stripped back. Your child climbs on board, pushes off using their feet and enjoys the ride without having to worry about managing pedals and brakes. Your child won't build up much speed and can use their legs to control the speed and slow down. Read more about how to ride a balance bike to find out more about teaching your child the skill of riding their first bike.
As they get better, they'll begin to balance and cruise with legs off the ground, using their feet (or brakes on some models) to slow down and stop.
Balance bikes give your child a chance to build confidence on two wheels. Then, when they've mastered the basics of balancing and steering, they're ready for a bike with pedals.
What age are balance bikes for?
Balance bikes are often the perfect choice for a child's first bike. You can, however, find balance bikes for older kids, where our bikes are recommended for up to 7 year olds.
Balance bike or bike with stabilisers?
Traditionally, bikes with stabilisers were the most popular option when teaching kids how to ride a bike. There is no right or wrong option when choosing a first bike for your child. Each child learns differently and may find it easier to master their balance first before advancing onto pedalling, steering, and braking.
The best way to know what bike is best for your child is to visit a local Halfords where they can sit on some bikes and get a feel for what's comfortable. If that's not possible or practical, check out our kids' bike size guide.
Balance bike benefits
There are many benefits of balance bikes, including:
They teach your child how to balance at their own pace.
They are easy to understand with no dirty moving parts like chains.
They are light enough for children to carry, which also helps them to control their riding more easily.
Balance bikes don't need a lot of space, so they can be used pretty much anywhere.
They don't require much maintenance since they don't have gears.
What safety gear does my child need to ride a balance bike?
Safety is critical while riding any bike, and balance bikes are no different. 
Your child should always wear a helmet when riding a bike. At Halfords, we have a massive selection of children's helmets in different styles and designs. From Peppa Pig to Disney Princesses, we've got a helmet that they'll never complain about clipping on. 
Other accessories you may want to buy with your balance bike include knee and elbow pads and gloves. You can check out our full range of kids' cycling clothing and essential accessories here.
What are the best balance bikes?
At Halfords, we stock a wide range of balance bikes in different sizes and styles. Here's a selection of our favourite balance bikes. 
Indi 10" Balance Bike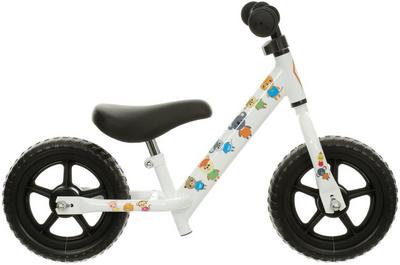 The Indi Balance Bike. is a perfect first bike for your little ones. With its cute design and specially designed for little hands, this is an ideal choice for those looking to build their confidence on two wheels and offers excellent value for money.
Buzz Lightyear 10" Balance Bike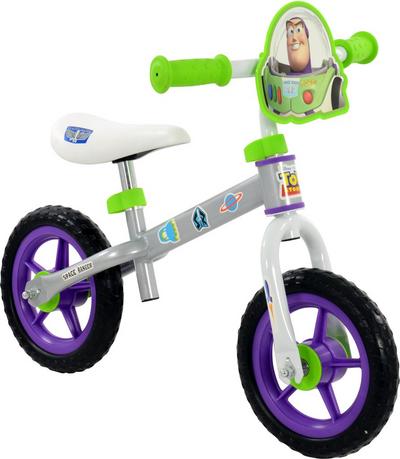 The Buzz Lightyear Balance Bike is the ultimate first bike for little ones who love Toy Story. Exclusive to Halfords, it features cool Buzz Lightyear graphics including a Buzz handlebar plaque. This bike is certain to put a smile on your child's face!
Apollo Wizzer 12" Balance Bike Pink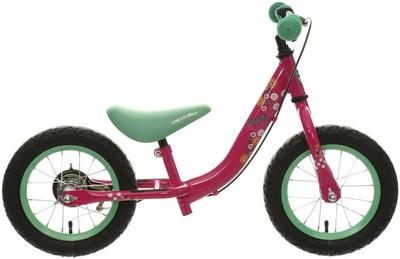 The Apollo Wizzer 12" in Pink is a perfect option for growing toddlers. Containing an adjustable seat, your little one can enjoy their bike for many years. Unlike other balance bikes, the Apollo Wizzer contains a built-in brake so your child can master their braking skills in addition to placing their feet on the ground.
Pendleton Somerby 12 " Balance Bike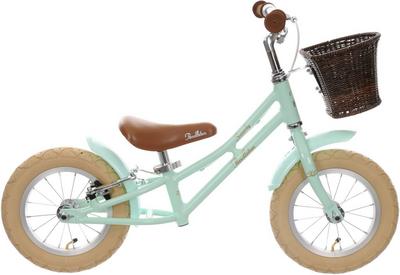 The Pendleton Somerby is the stylish balance bike created in collaboration with Olympic champion, Victoria Pendleton. A perfect option for a first bike, it contains a cute wicker style basket for little ones to carry their favourite toys on their journeys.
Trunki Folding Balance Bike – Pink and Blue 10" and 12"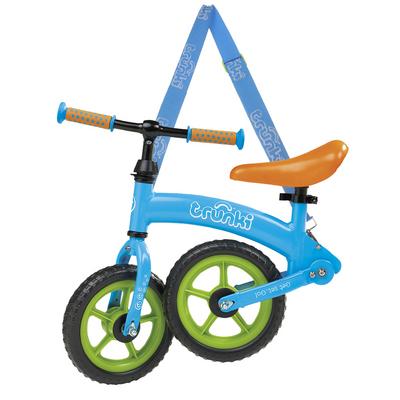 The lightweight Trunki Folding Balance Bike available in blue and pink in either 10" or 12" is a handy choice for parents and a Halfords exclusive. Developed in collaboration with Trunki, the bike contains a carry strap so can easily be towed and carried around, so is perfect for families on the go! The twisting handlebars make it easier to fold completely flat, transport and store. Meanwhile the puncture proof foam tyres and comfortable saddle, allow your little one to easily set off on their first adventure.
Carrera Coast Balance Bike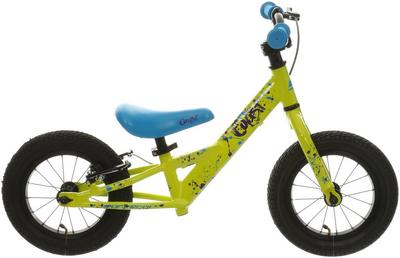 The Super MX 12" Balance Bike is a new online exclusive and is a fantastic option for your mini speedsters! With a motocross inspired design, your little one will be riding in style. The 12" air filled rubber tyres provide some resistance to help your child perfect the art of riding.
Shop our full range of balance bikes.
At Halfords, we've been helping riders take care of their bikes for over 100 years. For just £10 a year, you can sign-up to our Kids' CycleCare service where we'll provide a safety check and identify any issues or faults that may need fixing. In most cases, we can perform repairs quickly. 
Halfords Kids' CycleCare is the cheapest and best way to ensure your new balance bikes brings hours of enjoyment every time your child pushes off.