Halfords Car Battery Fitting Service
---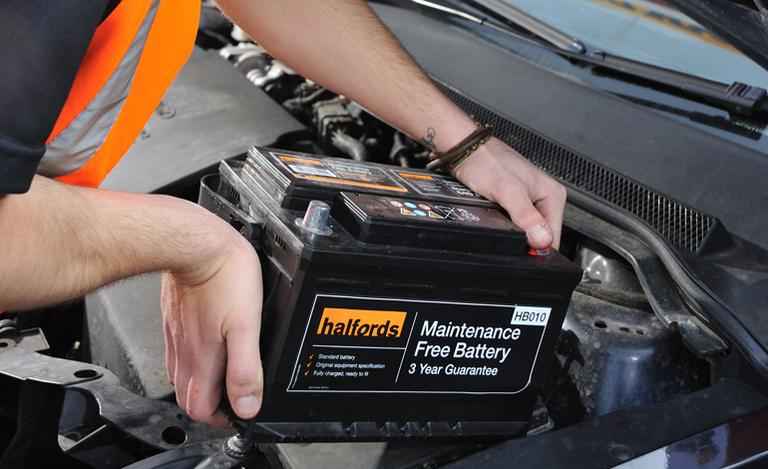 Autocentre and mobile car battery replacement
Many of us have experienced that dreaded moment when you turn the key in the ignition and are greeted with nothing.
But don't worry - if your car battery has gone flat, we're here to help. At Halfords, we have over 5,000 trained experts who can fit a new car battery for you quickly and efficiently, getting you back on the roads as soon as possible. They have all the necessary equipment for a hassle-free service.
We'd particularly recommend using our expert fitters for stop/start batteries, as many vehicles require new batteries to be registered with the on-board computer system.
Plus, Halfords will recycle your old batteries for free! Just leave it with us and we'll take care of it.
Car battery replacement
While there are steps you can take to maintain your car battery and maximise its lifespan, all car batteries will deteriorate over time and eventually need replacing.
As your battery reaches this stage, you might find it's more difficult to start your car when it's cold. You might need to jump-start your car a few times, or you might find it's just dead flat and refuses to charge.
Replacing your battery before it becomes completely flat is important as you don't want to be left stuck on your driveway or stranded. And, while you can call a breakdown service, it'll cost you more in the long run.
So, why not let us take care of it? Our trained technicians can perform your car battery fitting at any of our stores or autocentres nationwide, or even come and change it at your home or your workplace!
Find your nearest Halfords Store
Car battery fitting at Halfords
Whether it's a pre-emptive purchase to prevent problems, or an urgent replacement, our battery replacement service is designed to get you moving again.
You've got two options: buy a battery online or in store and we'll fix it for you, or use our mobile battery fitting service, and we'll come to you.
Here's how they work:
Halfords store battery fitting service
At Halfords, we have hundreds of stores and autocentres in the UK, which means it's more than likely there will be one near you!
Getting your new battery fitted couldn't be easier - here's how it works:
Option 1: Buy your car battery online and select 'click and collect'. Our online battery finder tool makes it simple to select the right battery for your car.
Option 2: Head to your local Halfords store and buy a new battery in-person.
If you're checking out online, select the battery fitting option and choose a convenient fitting date and time. When in store, just ask a member of staff.
Before we fit your new car battery, we'll carry out a couple of checks to ensure it's a replacement battery that you need.
Relax in our waiting area while we do the hard work for you.
Once we've fitted your new car battery and checked it's working as it should be, you're good to go!
It costs from just £20 for us to fit your battery. Once it's in place, we'll test it to ensure it works and we'll recycle your old battery too.
Book store battery fitting service
Mobile car battery replacement
With our mobile car battery replacement service, one of our trained experts can visit your home or workplace and swiftly swap your old car battery for a new one.
Here's what you need to know:
Enter your vehicle registration number and postcode online.
Look out for 'Mobile fitting available' icon that will appear on selected products.
Choose a battery with the 'Mobile fitting available' icon and then select the 'we'll come to you' option at the booking stage.
Choose a convenient fitting date and time, and you're done (once you've paid!).
Our mobile car battery replacement service is completely contact-free, keeping you, and us safe. We'll travel to you on the agreed date and at the arranged time (if you have selected a timeslot) and fit your battery. You just need to give us the keys.
Our mobile services are accessible to 75% of the UK population, so if you're searching for mobile car battery replacement near me, you've found it. We operate between 8am and 8pm, 7 days a week, and even offer next-day fitting if you're in a hurry.
Find out more about our mobile expert service.
Battery recycling
Car batteries contain a whole host of nasties inside that need to be taken care of by experts. At Halfords, we take our responsibility to the planet seriously and so when you use our in-store fitting service or mobile car battery replacement service, we'll recycle your old battery for free.
Find out more about battery disposal and recycling
What else can Halfords do?
At Halfords, we offer all our customers a range of free car health checks. If you're visiting a store, why not take advantage of our Free Battery Health Check or Free 5-Point Car Check? As well as your battery, the 5-point check looks at the condition of your headlights and brake lights, wiper blades and windscreen, and includes an MOT reminder.
Your time is precious, so let us come to you. If you've booked our mobile battery fitting service, you can also arrange for additional services, such as essential fluid top-ups and tyre fitting.
Find the full range of mobile services available here.
What happens if I can't start my car to get to a Halfords store?
If your battery is point blank refusing to provide enough power to turn the engine over, then you'll need a few quick fixes to get back on the road:
1. Jump start your car
With the help of another car and a pair of jump leads, you can get your car going again in no time. Just follow our handy guide to ensure you stay safe while doing it.
Another option is to use one of our emergency jump starters, which means you don't need access to another car.
2. Use roadside assistance, if you have it
Most breakdown and recovery services will be able to come and start your car to get you to a Halfords store. If you don't already have a breakdown plan, then check out Halfords Breakdown Cover. We may even be able to get your battery problems rectified at the side of the road.
3. Call a Halfords Mobile Expert
If you can't get your battery to recharge or work, and travelling isn't urgent, then book an appointment with one of our mobile mechanics. Halfords Mobile Experts can replace batteries at your home or place of work, saving you from having to jump-start your car or head into a store.
4. Remove your battery and get to Halfords!
If you're confident, then you can remove the battery yourself and visit a Halfords store where you can find a replacement. We'll sell you the right replacement to get you on the road in no time, and even take your old one away for you.
Will you have the right battery for my car?
We stock car batteries to fit over 98% of vehicles on the road, so we're likely to have exactly what you need. In the rare case that we don't have the correct battery for your car in stock, we'll simply order one in or recommend another Halfords store nearby (if they have it in stock).

We have everything from standard car batteries with a 3-year guarantee through to our silver batteries, which have a 5-year warranty and provide up to 45% extra starting power.

Whatever you drive and wherever you're going, at Halfords, we've got everything you need to keep you moving.

Discover our full range of car batteries
Back to services advice
06/23