How to change a wheel
---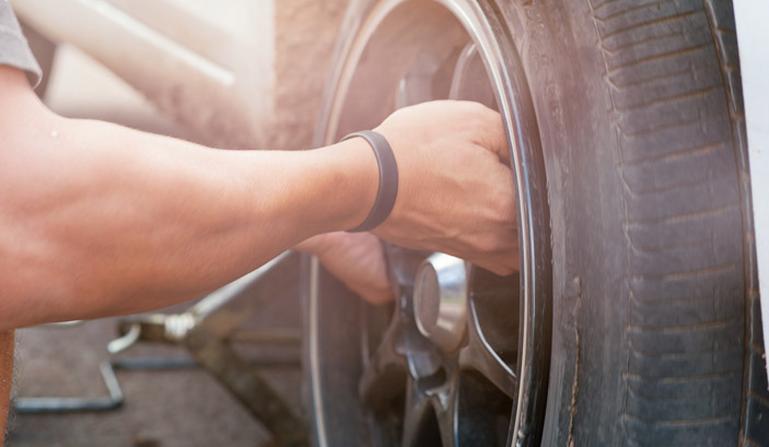 Changing a wheel can seem like a daunting task, one that many may leave up to a mechanic. But with the right kit and a little know-how, just about anyone can change a wheel themselves.
Follow these eight steps and you'll be on the move again in no time.
What you'll need:
Spare wheel with an inflated tyre
Jack
Screwdriver
Locking wheel nuts
Wheel wedges/ chocks
Your vehicle's handbook
Warning triangle
Vehicle safety kit, including a hi vis jacket, gloves, torch and mobile phone
How to change a tyre
Stop the car safely. Firstly, you'll need to make sure your car is parked safely, out of the way of any traffic. If you can, choose a long, flat stretch of road to prevent your car from rolling, and apply the hand brake. Put your hazard lights on soother road users know to give you space.
Apply the chock. Use your chock or wheel wedge on the wheel opposite the one you're changing. Place it as far as you can under the wheel. This will further secure the vehicle while the jack is in place.
Prepare your spare wheel. Locate your spare wheel and remove it from the vehicle - many cars have a wheel stored under the boot. Place it in a convenient spot ready to be changed.
Remove the alloy wheel. Remove the wheel cover of the tyre you're changing. Alloy wheels will likely be locked in place - you'll need your locking wheel nuts to safely remove it.
Apply the jack. Place the jack in the lifting point closest to the flat tyre. You can find details of lifting point locations in your vehicle's handbook. Extend the jack to lift the wheel just off the ground.
Remove the wheel nuts. You'll need to loosen wheel nuts with a wrench first, then carefully remove them by hand, keeping the wheel steady with your knee.
Fit the spare. Secure the new wheel in place by refitting the wheel nuts by hand. Lower the jack carefully until the wheel touches the ground, and then further tighten the wheel nuts with a wrench to ensure they're securely in place (you can find details of how to tighten wheel nuts specific to your vehicle in your vehicle handbook). Place the damaged wheel in the boot.
Check the spare. Many modern vehicles come equipped with space saver tyres, designed for temporary use. These space saver tyres are skinnier than regular tyres and don't perform anywhere near as well, especially in adverse weather conditions or at speed. We recommend travelling to your nearest garage to get a regular tyre fitted as soon as possible.
Find your nearest Halfords Autocentre
Run flat tyres
Want to continue your journey, without the hassle of changing a tyre?
Many newer cars are fitted with Run Flat tyre technology, allowing motorists to continue driving for up to 50 miles in the event of a puncture. We stock a huge range of Run Flat tyres for all sorts of vehicle makes and models, shop our selection of Run Flat tyres today.
Shop Run Flat tyres
Bridgestone DriveGuard
Bridgestone has developed a unique Run Flat style tyre, suitable for almost any make and model of vehicle. Bridgestone's DriveGuard range behaves in the same way as a regular Run Flat tyre, allowing you to continue your journey after a puncture.
Shop now
Same day tyre fitting
Did you know that we now offer same day tyre fitting service across our garages nationwide? Simply book online before 1pm and we can replace your tyres the same day to help you get you back on the road safely and swiftly. Please note that availability varies by location. For more information, please head on over to our dedicated same day tyre fitting page where you can find answers to frequently asked questions, choose the right tyres for your vehicle and book your appointment.
Book same day tyre fitting
Introducing the Halfords Motoring Club
At Halfords, we're here to get you from A to B while saving money in the process. Join the Halfords Motoring Club today to access a range of amazing benefits and discounts that are designed to keep you moving, keep you safe and keep you saving.
It's free to join and you'll receive money off your MOT, a free car health check and a welcome voucher that can be spent on any Halfords product or service.
Or choose our Premium membership for a small monthly fee (or a one-off payment) to unlock exclusive member pricing on all motoring products and services online and across our stores, garages and Halfords Mobile Experts, as well as a variety of other benefits that will help you to keep moving for less.
With so much to enjoy, this is too good an opportunity to miss!
Join the Halfords Motoring Club today at www.halfords.com/motoring-club.
Join the Halfords Motoring Club