Stroller, pushchair and pram buyer's guide
Buying your child their first stroller can seem like a bit of a daunting task, with lots of models to choose from and lots of factors to take into account such as type, budget, lifestyle and needs.
We've put together this guide to help you cut through the confusion and find a stroller, pushchair or pram that ticks all of your boxes.
What things should I consider?
When you're trying to decide which stroller, pushchair or pram is right for you, there are several points to bear in mind.
Budget
Strollers can really vary in price, from as little as £30 to over £2,000 depending on what make and model you go for. In a lot of cases, you'll effectively get what you pay for with higher priced models packing in more features or having the potential for longer-term use.
But there's still a lot to love about more entry-level models, so it all comes down to what your budget is and what your needs are.
Car
Will the stroller fit in your car? This is an easy one to overlook, but a really important point –particularly if your car's on the smaller side.
As with the price, the size, format and foldability of strollers can vary. Some may fold flat with the seat unit in place, while others may need you to remove the seat first. And while some may have quick release wheels, you might not want the hassle of having to remove them every time.
Future plans
If you're planning on having more children in the near future, then it's probably worth considering a double stroller or a single stroller that you can adapt into a double when you need to. It'll save you from the frustration of having to shell out the money for a second stroller further down the line!
Features and benefits
Strollers come with a range of features and benefits designed to make life easier for parents. Narrowing down the options can be tricky, but having a think about your lifestyle is a good starting point:
If you live in a rural area, then you might want a stroller with good suspension to handle those uneven roads and paths.
If you live in the city and plan to hop on and off public transport, then you'll probably want one that's lightweight and easy to manoeuvre.
If you're going to be doing a lot of driving, then you may want a stroller than can double as a car seat or one that's compact and can easily fit in your car.
If you're really active, then you'll probably want to consider a jogging stroller.
What stroller types are there?
You've probably come across the terms stroller, pushchair, pram and buggy and wondered what the difference is. It can be a difficult one to define because there are a lot of crossovers between the areas (and some of the terms are used interchangeably), but here's our basic guide to what each one means.
Prams

Prams tend to be designed for new-borns or younger babies up to six months old.

They're the most traditional style of baby carrier and are often parent-facing, with the child either lying flat or in a carrycot.

Strollers and pushchairs

Strollers and pushchairs are more likely to be geared towards older babies and toddlers (though there are some that are also suitable from birth).

They tend to be forward-facing, giving children the chance to take in the world around them, and are generally lightweight, manoeuvrable and easy to fold away.

Travel systems

Travel systems are prams and strollers that include a detachable child car seat, which makes them a great option if you don't want to wake a sleeping child.

Doubles and triples

Also called duos, twins and triplets, these strollers are designed for two or more children. Some styles can be converted from a single seat to a double, while others have two seats side-by-side (twin) or one behind the other (tandem).

Jogging strollers

As the name suggests, jogging strollers are specifically designed to allow you to jog while pushing them. They normally have a fixed front wheel, strong suspension and the ability to handle rough ground with ease.
Here at Halfords, we sell a range of strollers to suit your needs. Here are a couple of our favourites:
Joie Litetrax 3-Wheeler Pushchair – Dark Pewter
Suitable for: New-born up to 15kg
Weight: 10kg
Dimensions: 86 x 67 x 100 cm
Key features: Multi-position reclining seat, multi-position leg rest, 5-point adjustable harness, oversized canopy
The Joie Litetrax 3-Wheeler Pushchair has a sleek, sporty and stylish design and a three-wheel chassis.
The one-hand instant folding mechanism means you can operate it on the go and have it folded up in moments, while the one-hand smooth recline system means you won't wake your child when you adjust their position.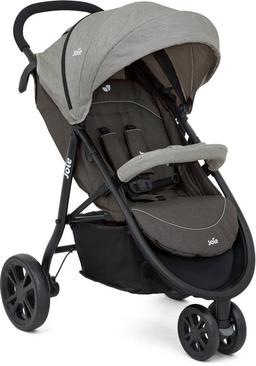 The Litetrax 3-Wheeler also comes with a SoftTouch harness system (adjustable to three heights), an oversized hood to provide shade and a secure bumper bar to keep your child safe.
Cybex Libelle Stroller – Deep Black
Suitable for: 6 months to 4 years (approx.)
Weight: 5.9kg
Dimensions: 71 x 52 x 102 cm
Key features: Car seat compatible, adjustable leg rest, front wheel suspension, self-standing
The Cybex Libelle Stroller is a super-compact and lightweight stroller that's ideal for both big and small journeys.
The front wheel suspension, adjustable leg rest and infinite reclining positions all combine to provide your child with maximum comfort, while the stroller can be easily folded away when it's not in use.
The Cybex Libelle is also compatible with Cybex car seats, which means you can transfer your child from car to stroller without any fuss.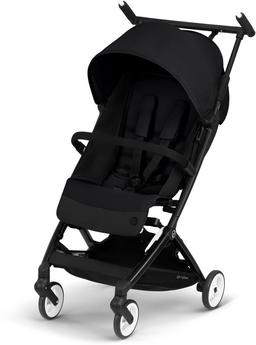 Explore our range of strollers
What accessories should I buy and what are they for?
Choosing a stroller is only half the decision; you'll probably want to have a think about accessories too. From sunshades to keep your child safe in the sun to footmuffs to keep them warm in the winter, there are lots to choose from. Here's a quick rundown of the different types and how they work.
| | |
| --- | --- |
| Footmuffs | Footmuffs basically work like sleeping bags and fit securely to strollers. They're a great way of helping to keep your child warm in the winter. |
| Parasols or sunshades | Parasols or sunshades do the opposite job by keeping your child out of the sun. They can normally be adjusted to keep your child covered as the sun moves and will usually attach to the frame of a stroller. |
| Head support cushions | Head support cushions are designed to provide young children with extra support and comfort when they're in a stroller or car seat. |
| Covers and nets | A rain cover or hood is a must-have in a rainy country such as ours, while a net can come in handy if you want to keep insects away. Just make sure you don't use them indoors or when it's hot to prevent overheating. |
| Changing bags and attachments | Changing bags are a convenient way of bringing along everything you'll need when you're out and about with your child. Some come with changing mats, insulated pockets and places to store soiled items too. |
| Coffee cup holders | This might not seem like an essential accessory, but it'll really come in handy if you want to be able to drink and push at the same time! It can also double as a holder for your child's drink, if needed. |
| Buggy boards | Buggy boards are a cost-efficient way of turning a single stroller into a double-child carrier. They attach to the back of a stroller and give toddlers a place to stand (or sometimes even sit) when their legs get tired, and a younger sibling is already filling the stroller seat. |
Shop stroller accessories
How can I clean and maintain my stroller?
When you've made your decision and invested in a brand-new stroller, you're probably going to want to keep it in the best condition possible. You may be able to find maintenance tips or recommend seat-cleaning products on the website of your chosen brand. Alternatively, our article on How to clean your car seat or stroller provides some great general advice.