ONLINE EXCLUSIVE
Limited Stock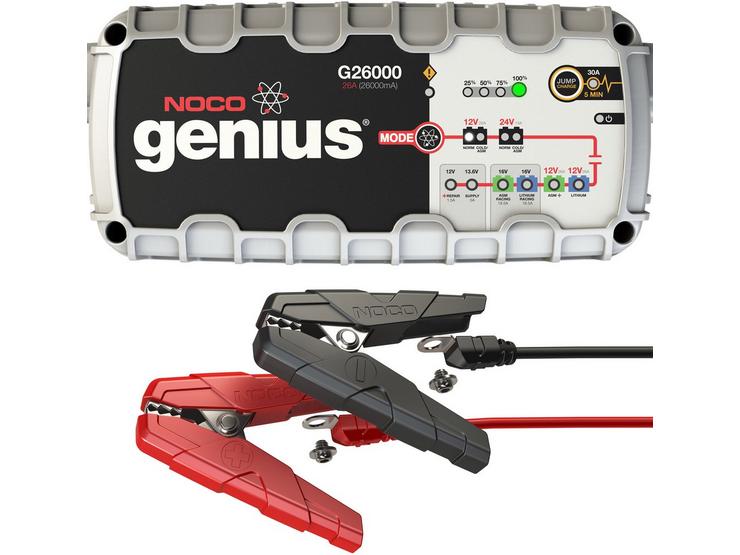 10 people are viewing now
5 purchases during last 48 hours
Charge Speed : Fast
Start Stop Compatible : Yes
Charge Rate : 26A
G26000UK 26A NOCO Smart Charger
The G26000UK 26A NOCO Smart Charger is a portable automatic battery charger and maintainer for both 12V and 24V lead-acid and lithium-ion batteries. Designed for charging a car, boat, RV, SUV, or diesel truck, as well as racing vehicles. It monitors battery activity for safe and efficient charging without any overcharge and complete with a built-in battery desulfator to rejuvenate underperforming and sulfated batteries. Comes equipped with an integrated JumpCharge engine start mode for jump starting flat batteries.
Features & Benefits:
A 12V and 24V automatic battery charger and maintainer.
Charges lead-acid and lithium-ion batteries up to 500 amp-hours.
Recovers deeply discharged batteries down to 2-volts.
Spark-proof technology and reverse polarity protection.
Built-in battery desulfator to recover worn-out batteries.
Safely monitors battery activity with zero overcharge.
Advanced diagnostics indication for damaged batteries.
Progressive repair mode for heavily sulfated 12V batteries.
Power supply for changing a car battery or powering 12V devices.
Jumpcharge engine starting for dead batteries.
Charge 16V AGM and lithium-ion batteries.
Application:
Perfect for keeping your vehicles fully charged and maintained during year-round battery maintenance or long-term storage for improved performance and longevity. Power Consumption:443 Watts (Max)
Works with all types of 12-volt and 24-volt lead-Acid batteries, including wet, gel, and AGM, or any common automotive, deep-cycle, marine, or maintenance-free battery
Additional Note:
Suitable for use on vehicles with Start/Stop batteries.
Other brands necessitate a separate battery charger for 12V charging, 16V charging, 24V charging, AGM batteries, 6V charging, cold temperatures charging, lithium-ion batteries, and battery desulfation. Your charger will not change as your demands and vehicles change with our adaptable multi-purpose battery chargers. You'll be able to switch bets with a simple push of a button.