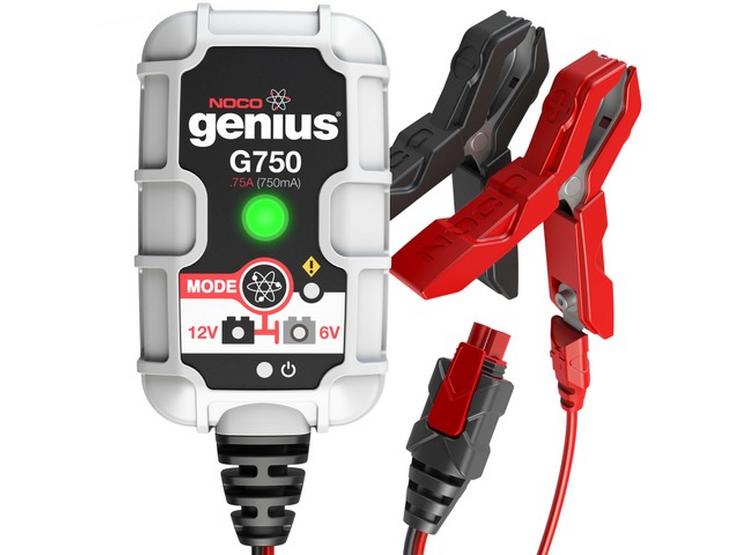 10 people are viewing now
5 purchases during last 48 hours
Charge Speed : Slow
Start Stop Compatible : Yes
Charge Rate : 0.75A
NOCO G750 Ultra Safe 0.75A Smart Battery Charger
The G750 Ultra Safe Smart Battery Charger is the most convenient way to charge and maintain any vehicle for extending battery life and year-round battery maintenance of your car, boat, truck, RV, lawnmower, or any other vehicle. Perfect for completely recharging smaller capacity batteries on motorcycles, ATVs, snowmobiles, personal watercraft, scooters, lawn-mowers and power wheels up to 30 amp-hours.
Extremely effective for maintaining automotive, marine, RV, powersport, lawn & garden and deep-cycle batteries. Its compact, yet powerful form factor allows it to charge batteries 2X faster than ordinary chargers, and one of the safest, most advanced charger on the market.
The G750 is a portable automatic battery charger and maintainer for both 6V and 12V lead-acid batteries. Designed for charging a Motorcycle, ATV, Snowmobile, Personal Watercraft, Lawn Mower and much more. It also can be used as a battery maintainer to keep a Car, Boat, RV, and deep-cycle batteries fully charged. And it monitors battery activity for safe and efficient charging without any overcharge and complete with a built-in battery desulfator to rejuvenate underperforming batteries.
Features & Benefits:
Charge fully drained lead-acid batteries up to 30 amp-hour with zero overcharge - Stay safely connected 24/7
Ultimate performance and versatility. Charge 6-volt and 12-volt batteries, recover damaged batteries, and suitable for micro-hybrid start-stop vehicles and works with CANBUS electrical systems
Ultra-compact, portable, energy-efficient design that's impact, UV and water-resistant (IP60). Easily mounts into any AC outlet
Advanced diagnostics automatically tests and detects a bad, damaged, or shorted battery
Actively monitors battery for safe and efficient charging with spark-proof technology, and reverse polarity protection
Recovers deeply discharged batteries down to 2-volts
Built-in battery desulfator to recover worn-out batteries
Warranty Information:
Additional Note:
Please Note:
Suitable for use on vehicles with Start/Stop batteries