Anti Roll Bars & Components
Find what's right for your vehicle
Enter your registration number and we'll only show you appropriate products.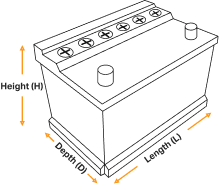 Check which battery is right for my car
About our anti roll bars
Anti-roll bars first started appearing during the 1950's when suspension allowed a greater degree of body roll in commercial vehicles. Anti-roll bars, also known as torsion bars, are designed to resist torsion when a centrifugal force pushes the inside of the car up and the outside down. The U-shaped length of metal joins the suspension at either side of the axle via the control arms.
Fitting an anti-roll bar will transfer the heavily loaded side of the suspension through the bar, essentially pulling the opposite side of the axle upwards towards the body. This process won't get rid of the roll completely, but it will reduce it.
Anti roll bar symptoms
The constant pressure from twisting and flexing can cause some components to weaken, limiting their effectiveness and in some cases, wearing out completely.. Symptoms you may experience include a clunking or rattling noise from near your tyres, a loose steering wheel or poor handling around corners. You may find that you have issues with your anti roll bar link or anti roll bar ball joint.
Order anti roll bar parts
Sway bars are made of high strength steel and are essential for the safe functioning of your car. That's why here at Halfords we offer a huge range of anti-roll bars for all car makes and models. Our handy lookup tool will allow you to locate products suitable for your vehicle, and using our convenient click & collect service, you can get a hold of your products sooner. Alternatively, use our trusted delivery service if you'd prefer to have your products delivered to your door. If you're still unsure which products you need, head down to your local Halfords store where one of our colleagues will be happy to assist you.