Find what's right for your vehicle
Enter your registration number and we'll only show you appropriate products.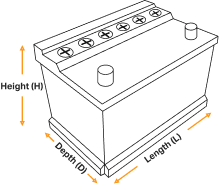 Check which battery is right for my car
Coil Springs?
As you drive, car springs are constantly working to absorb vibrations when your vehicle moves over potholes and bumps in the road. These springs mean that you'll have a smoother ride as they keep your suspension at a specific height. Within your car, you'll find both front and rear coil springs for each wheel.
Broken coil spring symptoms
Over time, your vehicle is repeatedly putting strain on its coil springs meaning they can wear out. Also, if you overload your vehicle, this could cause the springs to be compressed to their maximum which has negative effects. A broken coil spring will cause your car to sit at an angle, which can lead to other components knocking or scraping against each other. As a result, you might hear knocking or clunking noises when you drive over uneven ground.
Coil spring replacement
If you have a broken coil spring, you can find all the car parts you need from Halfords. We recommend replacing car coil springs in pairs so that your vehicle is as stable as possible. To see which coil springs are correct for your vehicle, simply enter your registration number in our tool. If you've found the car spring you need, choose between home delivery or our convenient click and collect service at your local Halfords store .