As car technology specialists, Halfords can show you everything you need to know about Bluetooth and how to set it up. Read on for our low-down on all things Bluetooth.
What is Bluetooth?
You've probably heard the word a lot, especially when it comes to mobile phones. But what exactly is it?
Bluetooth allows the transfer of data without having to use physical cables. 'Bluetooth devices' use electromagnetic waves to communicate with each other - they include mobile phones, hands-free kits, printers, keyboards and more.
In cars, Bluetooth is mainly used for hands-free calling. Besides making calls without handling your phone, Bluetooth is also useful for streaming music, pictures or files to other phones and computers.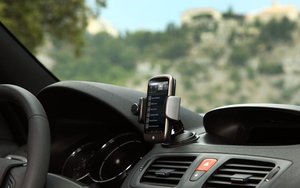 Synchronising data between your phone and computer makes it easy to keep your stuff up-to-date across all devices. You can even connect to the internet with your laptop using your phone's signal!
Once Bluetooth is 'enabled' on a device, it can then be paired to another. When two devices are paired, they can exchange data with one another. Depending on the device, the Bluetooth radius will range from a few metres to 100 or more.
What should I choose?
One thing to bear in mind when choosing Bluetooth headsets/speakers is that they're independent devices, so you'll need a phone with Bluetooth in order for them to work.
Headset - Headsets (earpieces) are small and convenient. They come in plenty of different shapes and sizes.
Visor Mount/Plug-in Speaker - A visor mount sits on your sun visor, whereas a plug-in slots into your cigarette lighter. Certain models can connect to up to five different phones!
Fitted Hands Free Kits - Hands-free kits connect your speakers/mic to your car stereo. Some units let you browse phonebooks, photos and even listen to music.
As well as dedicated hands-free kits, we also stock sat navs and head units with Bluetooth functions. These allow you to make calls or stream music by connecting your phone to them. You can also stream music from your phone to your car stereo or wireless headphones, for on-the-go rockin'.
How do I get it to work?
After you've turned Bluetooth on (in your phone's settings), you can scan for other Bluetooth devices. Find the name of the device you want to connect to - this is either the product's item code, or a name you may have given it. You'll have to enter an identical pass code on both devices - once this is done, you're good to go!
Why Halfords?
At Halfords, our colleagues are trained to know the ins-and-outs of Bluetooth and are more than happy to explain or demonstrate anything you may not understand. Whether you purchased your product from us 2 days ago or 5 years ago, we'll always be here to help. Plus you can always come back to us if you need refreshing on anything you're unsure about!
Fitting
If you're struggling to fit your Bluetooth kit, worry not! We can fit it for you for only £50/€60. Take a look at our guide for more information.
View Car Bluetooth
Introducing the Halfords Motoring Club
At Halfords, we're here to provide you with the best value for all your motoring needs, from fitting your new Bluetooth kit to car health checks. Join the Halfords Motoring Club today to access a range of amazing benefits and discounts that are designed to keep you moving, keep you safe and keep you saving.
It's free to join and you'll receive money off your MOT, a free car health check and a welcome voucher that can be spent on any Halfords product or service.
Or choose our Premium membership for a small monthly fee (or a one-off payment) to unlock exclusive member pricing on all motoring products and services online and across our stores, garages and Halfords Mobile Experts, as well as a variety of other benefits that will help you to keep moving for less.
With so much to enjoy, this is too good an opportunity to miss!
Join the Halfords Motoring Club today at www.halfords.com/motoring-club.
Join the Halfords Motoring Club