DAB Car Radios Buyers Guide
---
Simply put, DAB (Digital Audio Broadcasting) digital radio offers superior sound quality than traditional FM / AM band radio. Digital transmissions contain more information than conventional FM / AM, thanks to the super-fast wavelength of around 220MHz in the UK, compared to the 75KHz or so wavelength of analogue FM / AM radio broadcasts.
What's the big advantage of having DAB?
As well as much improved audio quality when it comes to both music and the spoken word, DAB radios offer way more in the way of channel choice and selection. Many DAB radios have set channels that are a bit like the channels on your TV, so you don't need to spend time flicking through different frequencies to find your favourite channel - just scan when you want to find new channels and they'll install automatically. The choice of channels is much wider too, as you'll be able to listen to channels from all over the UK (and sometimes even abroad), rather than local broadcasts on FM / AM.
Does my car already have DAB digital radio?
If you're driving a fairly new car, then there's a good chance that you've already got a DAB digital radio, but there's no guarantee that your car has had one fitted as standard. The easiest way to find out is to just check your radio and see if there's a broad range of channels, or if you only have to scan via the menu to find new channels. If you need to scan through frequencies manually or can only choose between FM and AM options in the menu, then you've only got an analogue radio in your stereo system. You can also check your car owner's manual if you're still not sure.
Do I need an entirely new stereo system to get DAB digital radio?
Not at all! You can get a new stereo fitted that will have DAB digital radio as well as other benefits like phone connectivity or even a built-in sat nav, but if you don't want to fork out on an entire new stereo system than you can always go for a DAB digital radio adapter. These digital radio adapters fit most cars and provide all of the additional content and improved quality without you having to change out your stereo. To get one of these adapters fitted, just head to your local Halfords store and we'll happily get it installed and set up for you for a small charge.
The other option is to stream digital radio via your smart phone. With the help of an aux cable and phone holder, you can simply plug in and play your favourite digital stations.
IMPORTANT: You must not use your phone while driving, even to change channels. You could face fines, prosecution, a driving ban or in extreme cases jail time.
What is DAB+?
DAB+ is an upgrade from the current DAB system, offering three times as much efficiency when it comes to broadcasting. This means you'll get even more stations, superior sound quality and less chance of your radio station dropping out if you drive into an area with poor reception. Not all DAB radios offer DAB+, so check the packaging or online product description if you want this feature.
The best DAB digital radio upgrades

Pioneer MVH-X580DAB Car Stereo
If you're interested in getting a whole new stereo for your car, then you can't go wrong with a Pioneer MVH-X580DAB Car Stereo. Costing just over £100 plus fitting, you can benefit from improved quality DAB+ broadcasts and channels, as well as Bluetooth connectivity for hands free calls and an AUX cable if you're still using an iPod or MP3 player.
Shop all car stereos »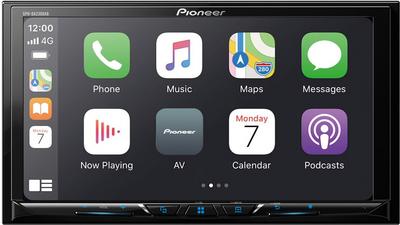 Pioneer SPH-DA230DAB
For a serious audio upgrade, the award winning Pioneer SPH-DA230DAB is an excellent choice. With a 7 inch touch screen, Apple Carplay or Android Auto, MIXTRAX DJ Effects and Track Mixing and DAB+ digital radio that offers pausing and rewinding of live radio, you'll be able to bring your car audio system right into the 21st century!
Shop car stereos with smartphone displays »
Read more about car audio in our car audio buyers guide.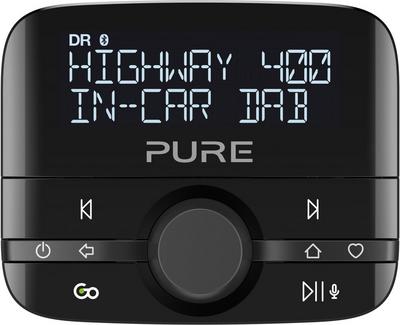 PURE Highway 400
A DAB digital radio adapter is also an excellent upgrade that often won't cost as much as a new stereo. With the PURE Highway 400, you can get a smart DAB digital radio adapter that also doubles up as a digital music player. Once it has been installed by one of our experts, the compact control unit allows you to select your new range of channels or choose from your own songs, and there's even a small display so you can see exactly what you're listening to.
Shop all DAB adapters »
If you're worried about losing your favourite FM or AM stations with a DAB digital radio upgrade, you'll be pleased to know that all of our digital radios are capable of picking up both FM and AM stations. By upgrading to a DAB digital radio, you won't lose out on any stations, plus you'll add many more that may match your tastes and preferences.
If you still need some help or want to demo a particular radio before buying, then head to your local Halfords store and we'll be happy to help.
Introducing the Halfords Motoring Club
At Halfords, we're here to provide you with the best value for all your motoring needs. Join the Halfords Motoring Club today to access a range of amazing benefits and discounts that are designed to keep you moving, keep you safe and keep you saving.
It's free to join and you'll receive money off your MOT, a free car health check and a welcome voucher that can be spent on any Halfords product or service.
Or choose our Premium membership for a small monthly fee (or a one-off payment) to unlock exclusive member pricing on all motoring products and services online and across our stores, garages and Halfords Mobile Experts, as well as a variety of other benefits that will help you to keep moving for less.
With so much to enjoy, this is too good an opportunity to miss!With so much to enjoy, this is too good an opportunity to miss!
Join the Halfords Motoring Club today at www.halfords.com/motoring-club.
Join the Halfords Motoring Club