Halfords Advanced Smart Battery Charger Plus - 6A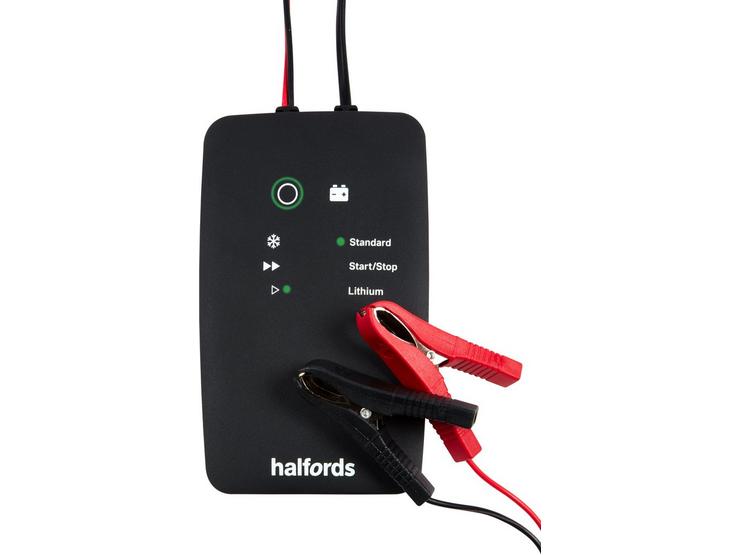 10 people are viewing now
5 purchases during last 48 hours
Halfords Advanced Smart Battery Charger Plus - 6A
Charge Speed : Standard
Start Stop Compatible : Yes
Charge Rate : 6A
Halfords Advanced Smart Battery Charger Plus
The Halfords Smart Charger Plus has a sleek, intuitive design that applies an advanced, eight stage charging cycle (more info below on charge phases) without complicated programming. It automatically selects the fastest charging mode, and also protects against overcharging, as it will detect when the battery is completely charged and switch to a lower charge rate to keep it topped up. The repair phase improves the battery condition and help it last longer and be more resilient to cold weather.
The Smart Charger Plus also includes winter charge mode for charging in cold weather, and long-term maintenance mode: ideal for attaching to seasonally used vehicles such as motorcycles, caravans or classic cars to keep the battery in good condition. It is weatherproof, and comes with integrated hook for easy charging.
Simple to use, fully automatic smart battery charger that charges, protects and repairs 12V batteries in vehicles up to 3L. Suitable for use with most battery types - including lead acid, gel, calcium, AGM, EFB and lithium. Ideal as a battery charger for START/STOP vehicles, and great for households with more than one vehicle.
8 Stage Charging Cycle:
1.Test & Analysis – Determines repair or charging modes
2.Desulphation – Repair stage to increase performance and prolong battery life
3.Soft Start – Slow build up of the charging current to protect the battery
4.Bulk Charging – Charges the battery up to 80% capacity
5.Absorption – Slows down the charge rate for batter power gain
6.Test – Identifies if the battery is fully charged or additional battery repair required
7.Recondition – If the test stage identifies if more repair is needed, the RECONDITION stage further boosts the battery
8.Float – Allows long term connection to keep the battery fully charged
Features & Benefits:
Smart charger for 12V vehicles up to 3L
Suitable for lead acid, gel, calcium, AGM, EFB and lithium
Helps vehicles batteries last longer
Eight stage charging cycle that charges, protects and repairs batteries
Weatherproof
Winter charge mode for cold weather
Easy to use
Application:
Suitable for use with most battery types including lead acid, gel, calcium, AGM, EFB and lithium
Additional Note:
Suitable for use on vehicles with Start/Stop batteries