Electric Scooter Buyer's Guide
---
Maybe you're a scooter owner who's looking for a fun new way of travelling. Or maybe you just like the idea of being propelled along by a battery and motor without having to do the hard work. Whatever your situation, an electric scooter, or e-scooter, will be right up your street and here's our guide to choosing the right one.
Why buy an electric scooter?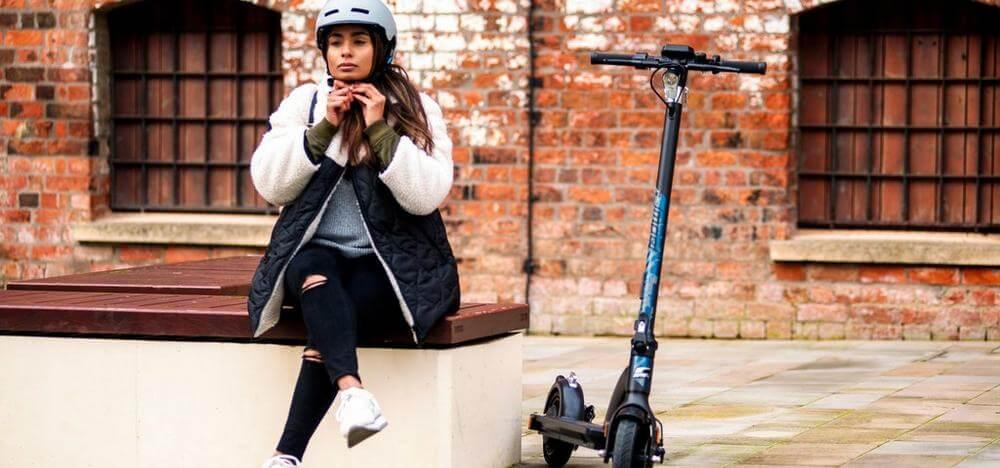 Electric scooters are a swift, stylish and environmentally-responsible mode of transport. They're simple to use, you don't need any experience and the onboard motor means they don't require the same effort as a traditional scooter or electric bike. Perfect for people who want to have fun without feeling the effects the following day!
*Images of electric scooter riders were taken on private land in full compliance with all legal requirements.
How to choose the right scooter

There are a range of different electric scooters to choose from. Here are the key factors that you should consider when you're searching for the right scooter for you.
1. Price
You can expect to pay a little more for an electric scooter than a conventional push one, although you can still pick up a decent electric scooter without breaking the bank. The price ultimately depends on what level of features you're looking for. A scooter with a bigger battery, more powerful motor and extra features will set you back more than a lower spec model with less power and basic features.
2. Range
The capacity of your scooter's battery is the main influence on the range you're able to achieve. However, other factors like the type of journey, the conditions, and the weight of the rider will all play a part too.
If you're only going to be making short journeys on surfaces with few inclines, then a smaller and more cost-effective battery may meet your requirements. On the other hand, if your route includes a lot of hills, or you plan on travelling longer distances without the need recharge, then it may be worth investing in a larger battery.
Whatever you choose, keep in mind that only using the throttle in short bursts and using a slower speed mode (most scooters offer different modes) will generally allow you to travel further on a single battery charge.
3. Motor power
If you want to zip along and tackle hills with ease, then go for an electric scooter with a powerful motor. The higher a motor's wattage, the more power it can produce to accelerate the scooter along. If you know you're going to be regularly tackling hills, then we'd recommend choosing a scooter with a 350w motor as a minimum.
4. Weight
If you're going to be carrying your scooter for any length of time, then it's worth taking the weight into consideration. Some models are more lightweight and easier to fold than others, making them more suited for transporting and storing.
5. Suspension, brakes and tyres
Just like choosing a standard or electric bike, choosing an electric scooter should involve checking over the specs; make sure that the suspension, brakes, and tyres will suit your needs and your average ride.
A good suspension system is a great extra feature that will help to smooth out your ride, especially on bumpier journeys. If you're likely to be riding on rougher terrain, a scooter with suspension is well worth considering.
Tyre type is also important to think about: the main two are air filled (or pneumatic) and solid tyres. Pneumatic tyres provide a smoother ride as they help to absorb bumps in the road, however they bring the risk of punctures. Solid tyres, on the other hand, are low maintenance since they won't puncture, but you won't get the same level of shock absorption or ride comfort.
Brakes are essential for using an electric scooter safely. Mechanical brakes like disc and drum brakes are excellent at providing safe and reliable stopping, but they will wear down over time, so it's important to keep an eye on them to keep them in working order. Electronic brakes are another popular type of brake on electric scooters, usually engaged by a push button or lever.
Top electric scooter brands at Halfords
Carrera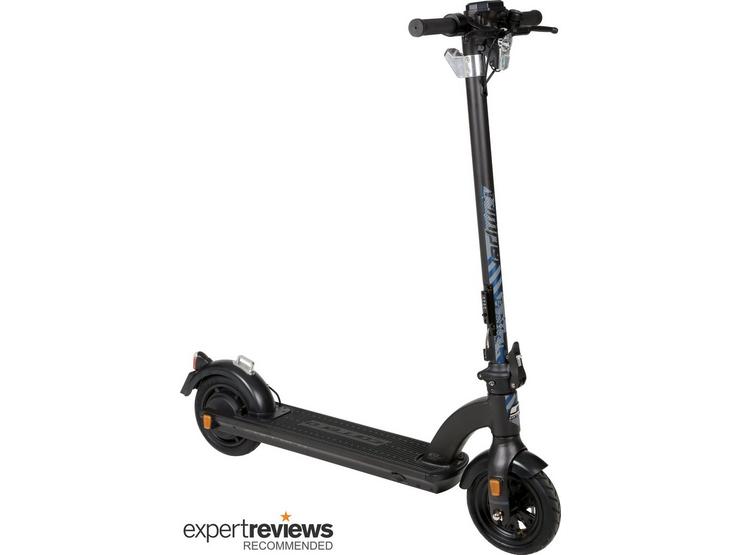 Carrera Impel is-1
The impel is-1 is the ultimate electric scooter, designed for more! With an impressive IPX5 waterproof rating, you don't need to worry about getting caught in a rain shower – making it perfect for British weather. Every aspect of the scooter is designed with performance in mind, including the powerful double-disc braking system that supplies dependable stopping power, the shock-absorbing air-filled pneumatic tyres, and a powerful motor that provides unrivalled hill climbing ability.
The impel is-1 even has an in-built electronic alarm, immobiliser, and cable lock – making it the complete package!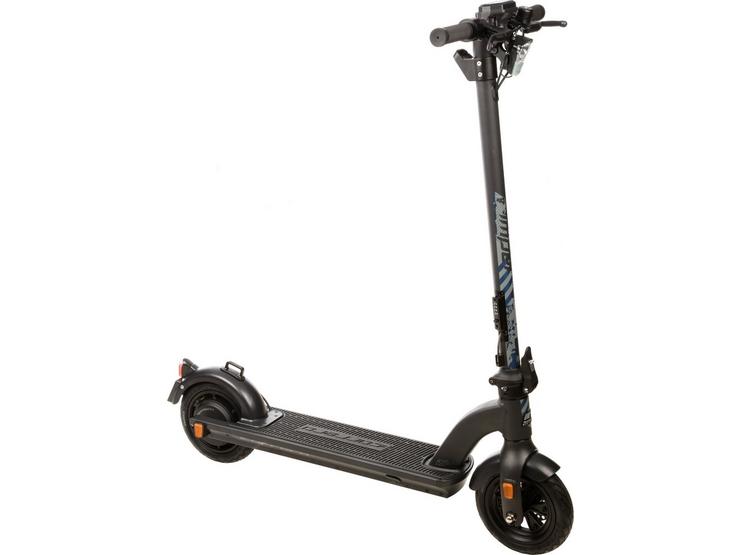 Carrera impel is-1 2.0
Carrera have built on the design of the impel is-1 and (incredibly!) made it better with the Carrera impel is-1 2.0. In a case of 'if it isn't broke, don't fix it', much of the original design remains. Instead, Carrera have focussed on a couple of improvements that boost the rider experience.
Starting with new anti-puncture pneumatic tyres. Reducing the risk of punctures, they're a great addition which give that added peace of mind that a flat tyre won't end your ride.
Adding to this, the impel is-1 2.0 also has a new cruise control system. If you ride at the same speed for 6 seconds, this cruise control automatically kicks in. It's then deactivated when you press the throttle or pull the brakes. Having cruise control simplifies the ride experience as you don't need to hold the throttle throughout your ride.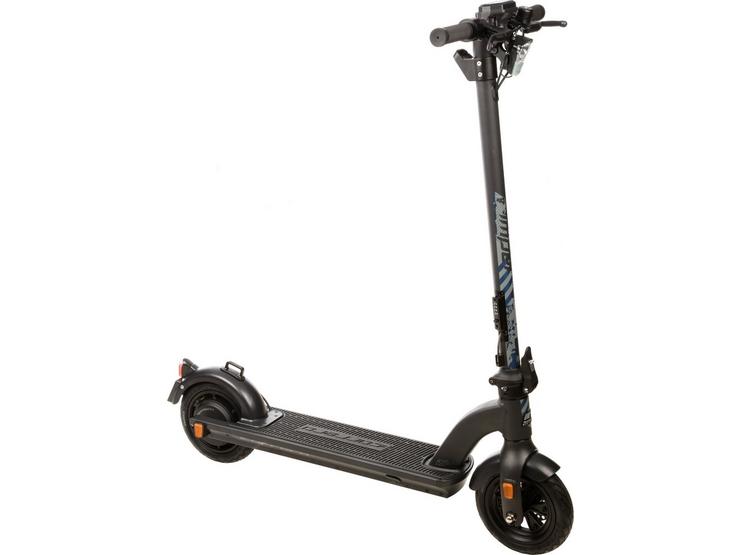 Carrera impel is-2 2.0
New for 2022, the Carrera impel is-2 2.0 is packed with top tech.
An upgrade to the impel is-1, it offers an improved maximum range of up to 22 miles. That's a lot of riding off a single charge!
And that's not the only upgrade. Boasting larger 10" anti-puncture pneumatic tyres, the impel is-2 offers an exceptional ride quality. No matter what the surface, you'll ride in comfort.
Every part of the e-scooter is high-quality, and it also benefits from an IPX5 waterproof rating, inbuilt cable lock and electronic locking system, a powerful disc braking system plus much more.
Shop the Carrera impel is-2 2.0
Segway Ninebot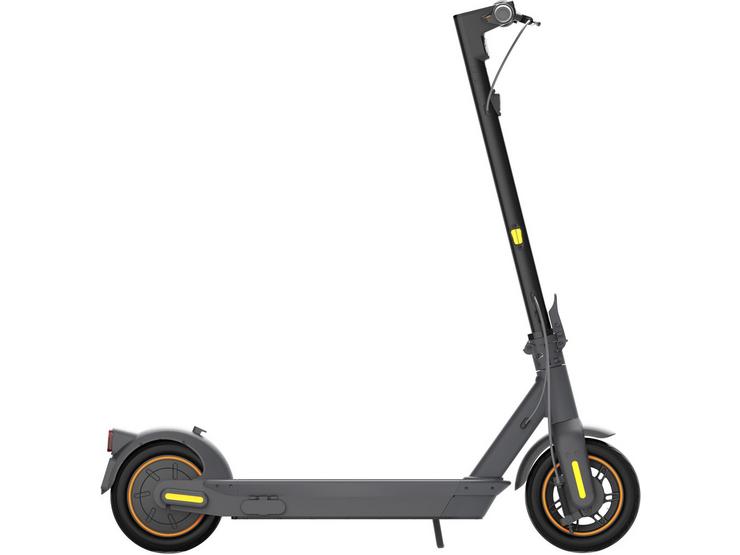 Segway Ninebot Max G30E II
Building on the success of its predecessor, the second generation of the Segway Ninebot Max G30E offers riders an updated design and a more dependable ride thanks to a number of new features. The 10-inch tubeless pneumatic tyres require little maintenance and have an additional jelly layer for a reduced puncture risk, while the full colour dashboard gives you access to key riding stats such as speed, battery level and riding mode. You can choose between either eco, drive or sport mode, to tailor the ride to suit your journey.
Indi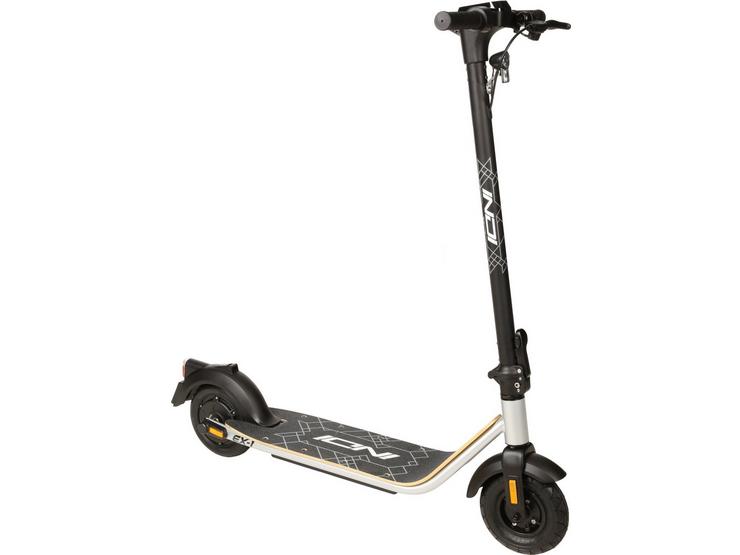 Indi EX-1 Electric Scooter
From their high-quality bikes to their market-leading e-scooters, every Indi product is designed with style and performance in mind. And all this knowhow has been filtered into the urban-ready Indi EX-1 Electric Scooter.
Lightweight and convenient, it weighs in at only 13kg. Combined with the quick-folding mechanism, you can easily fold the scooter and carry it wherever you need to go.
This light weight doesn't come at the cost of power, and the 250W motor will easily conquer hills up to 13% - steep gradients that most e-scooters would struggle with.
And just as importantly, the e-scooter looks great too, with a neat, urban-inspired design.
Shop the Indi EX-1 Electric Scooter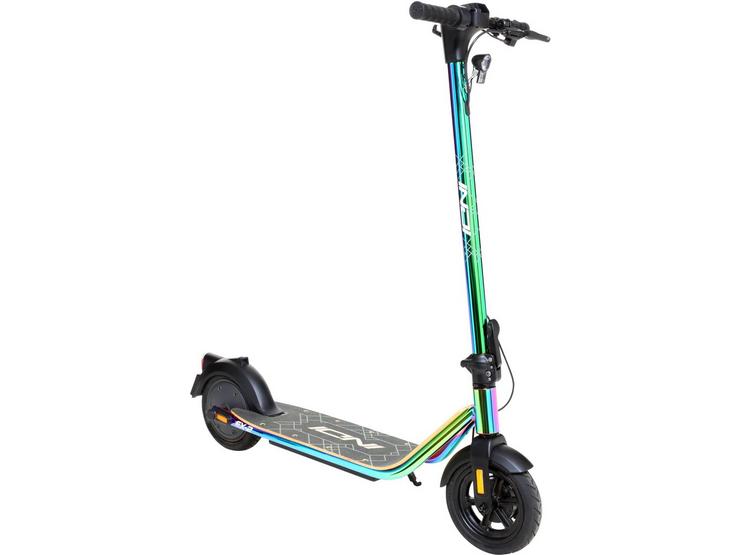 Indi EX-2 Electric Scooter
Few e-scooters can match the Indi EX-2 for looks. Available in two colourways (neo chrome or black), it's sleek, urban-inspired design will garner some envious looks as you ride.
Offering an upgraded range from the Indi EX-1, you can enjoy rides of up to 18 miles. And for every one of those miles, you'll get to enjoy the Indi's great ride quality and impressive power.
This includes a powerful 350W motor which can conquer gradients up to 15%. Powerful front drum and rear electric brakes ensure you'll always come to a safe stop and the scooter even has an IPX5 waterproof rating.
Shop the Indi EX-2 Electric Scooter
Xiaomi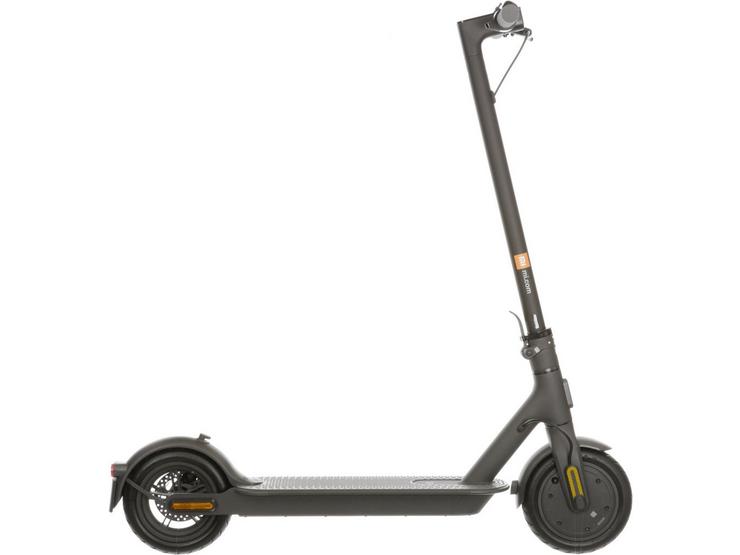 Xiaomi Mi 1S
New for 2020, the Xiaomi Mi 1S boasts a maximum speed of 15.5mph and a maximum range of 18.6 miles. The dual braking system and skid resistant and shock absorbing tyres enhance the rider's safety, while the sophisticated cruise control system and three speed modes mean you can let the scooter do a lot of the work for you. Add in an upgraded LED display, as well as front, rear and side reflectors, and this upgraded version of the best-selling Xiaomi Mi M365 is well worth checking out.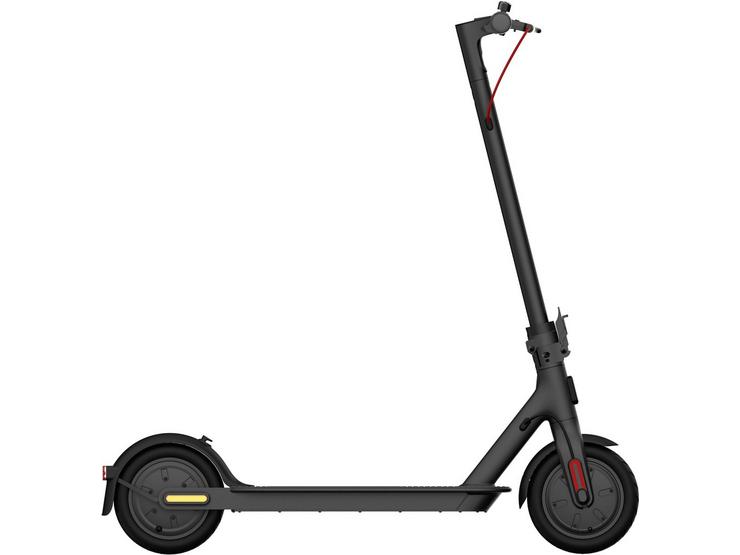 Xiaomi 3 Lite
The Xiaomi 3 Lite. For the perfect beginner's scooter, look no further than the Xiaomi 3 Lite. Built for portability and rider comfort, the 3 Lite weights just 13kg and folds in seconds to be easily carried or stored. It has many of the well-loved features of the older 1S model, including three speed modes and 8.5" pneumatic tyres, but it brings some upgrades too. The wider deck means more comfortable and stable riding, while the new intuitive display makes for easy reading on even the bumpiest of rides.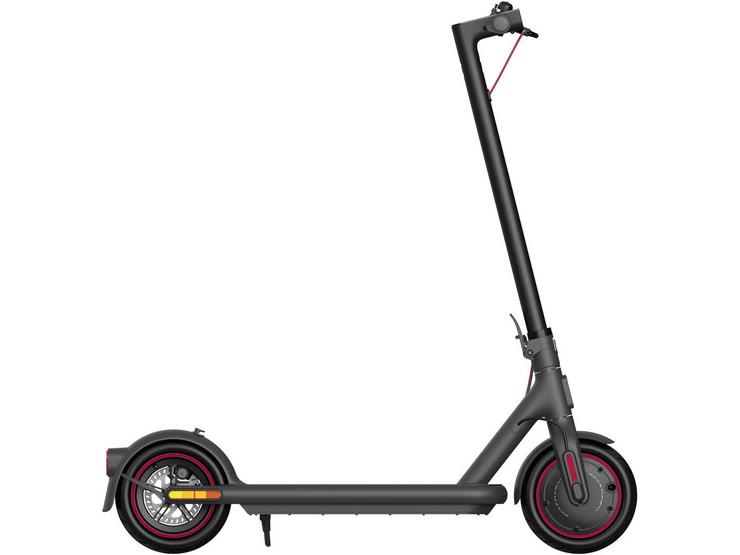 Xiaomi 4 Pro
The Xiaomi 4 Pro. For unrivalled riding across any terrain, the Xiaomi Pro 4 Electric Scooter has everything you need. With a huge maximum range of 30 miles and 10-inch tubeless self-sealing tyres, you're sure to get the most out of your rides. Xiaomi's top level electric scooter comes packed with power, thanks to the premium 12.4ah lithium battery and 350W motor, allowing you to ride for up to 30 miles on a single charge and tackle gradients of up to 20%.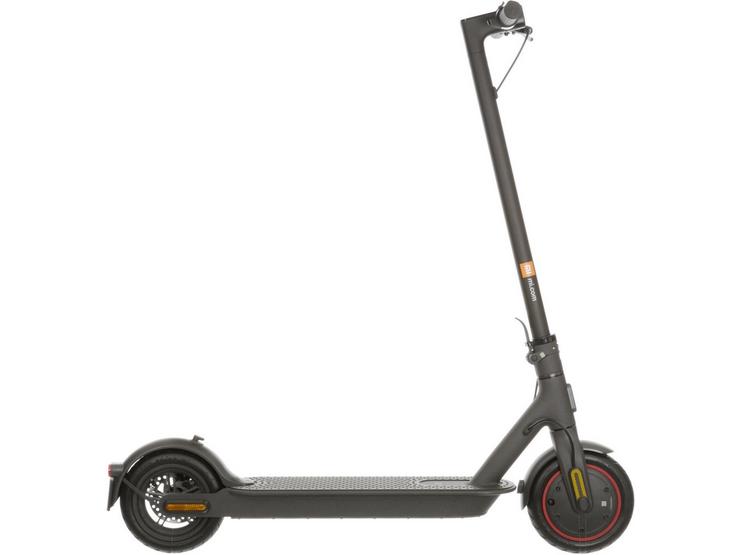 Xiaomi Mi Pro 2
The Xiaomi Mi Pro 2 is another new entry for 2020 and an upgraded version of the popular Xiaomi M365 Pro. The scooter retains the high-grade features of its predecessor and offers an enhanced riding experience thanks to a new lighting safety system, as well as improved skid resistant and shock-absorbing pneumatic tyres. With a top speed of 15.5mph and a maximum range of 28 miles, the Xiaomi Mi Pro 2 will get you from A to B in style.
Shop Xiaomi Scooters How to get started with Xiaomi
Electric scooter accessories
Just like bikes and normal scooters, staying safe while riding is critical. A helmet is an absolute must, especially if the scooter you're looking at can reach higher speeds. Normal bike helmets are better than nothing, but you can buy scooter-specific helmets in various designs, handy for picky teenagers who factor in style as well as safety.
An electric scooter is a significant investment, which makes it all the more essential to keep your scooter safe when you're out and about. There are a range of scooter-suitable D locks and cable locks available, many of which are rated Sold Secure Gold or Silver.
Why not enhance your e-scooter experience with must-have accessories?
Starting with a carry strap. A carry strap is a useful addition as it'll make it easier to carry your e-scooter.
Phone mounts are also a great option as they keep your phone easily accessible so you can stay connected as you ride.
And don't forget a bottle mount so you have somewhere to store a drink and keep refreshed.
Shop Electric Scooter Accessories
Electric scooter maintenance
Electric scooter care plan
Just like normal scooters, electric scooters will need some TLC – especially when it comes to the battery and motor.
To keep your scooter in top condition, why not leave the hard work to Halfords? Our in-store electric scooter experts have the tools and knowledge to repair and maintain all types of scooter, so you can focus on whizzing along safe in the knowledge that your scooter is performing at its best.
Our annual E-ScooterCare plan is a great way to ensure that your electric scooter remains in tip-top shape. This great value service bundle includes:
Puncture protection service
Puncture repair and inner tube replacement fitting service
Unlimited brake adjustments
10% off e-scooter parts and accessories
Free accessory and parts fitting
Unlimited free safety checks
Tyre inflation and pressure checks
General care tips
Keeping the scooter itself in good condition will help it to last longer, so give it a good clean regularly (remove the battery before getting water anywhere near the scooter and always read the instruction manual first).
A great way to prevent punctures in your air-filled tyres is to use some slime. This is one of the electric scooter repair services we offer, alongside inner tube replacement if you do find yourself with a puncture. Both jobs can be fiddly, so let us do the hard work for you.
To book an inner tube fitting, just find the right inner tube to fit your electric scooter on Halfords.com and select "inner tube or tyre fit" when adding to your basket, or pop into your local store and speak to a colleague. While you're having the tube replaced, ask about our slime service for extra protection.
How to puncture protect your scooter tyres
Battery care tips
To maximise battery performance, try to charge and store your battery indoors and at room temperature. Also, disconnect the battery if you're not going to be using the scooter for a while as letting the battery drain while connected can cause damage.
For further info about how to look after your electric scooter, check out our Electric Scooter Maintenance Guide.
Electric scooters and the law
It's currently illegal to ride a privately owned e-scooter on a public road, pavement, cycle lane or bridleway. Privately owned e-scooters can only be ridden on private land with the permission on the landowner. Customers should be aware that if they use a private e-scooter illegally, they could face a fine and penalty points on their licence, and the e-scooter could be impounded. To find out more about the laws around electric scooters, check out our advice article.
On the 10th May 2022, e-scooter legislation was included as part of the Transport Bill in the Queen's Speech, which outlines the Government's priorities for the year ahead. Whilst this doesn't provide a timeframe for when e-scooters will be legalised, it does mean that over the course of the year ahead, the UK government will look to work through the details of the regulations required to enable the legalisation of private e-scooters on public land.