Start your child's journey to cycling with My Buddy Wheels.
Kids at this magical age instantly fall head over heels for the My Buddy Wheels characters. The friendly dino, classic horse and lovely unicorn cleverly disguise a lightweight balance bike. Toddlers have so much fun with their Buddy they don't realise they are learning the fundamental skills needed for cycling. Balance, speed, stability, strength, and most of all confidence.
Learn to ride. Love to ride. Our friendly Buddies help your children build the fundamental skills required for a lifetime of cycling.
Shop the range
Stability
Speed
Strength
Grip
Confidence
Meet My Buddy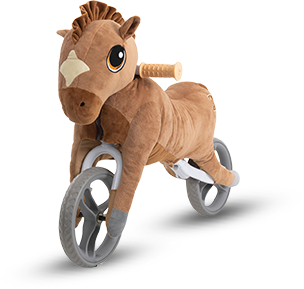 Classic Horse
Take your cuddly horse on big adventures today!
Shop now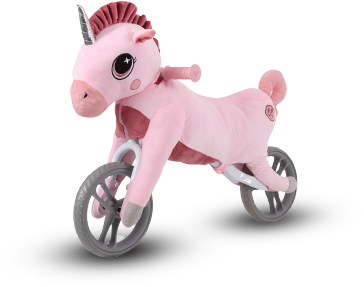 Lovely Unicorn
Explore where unicorns love to play and choose your own magical adventure!
Shop now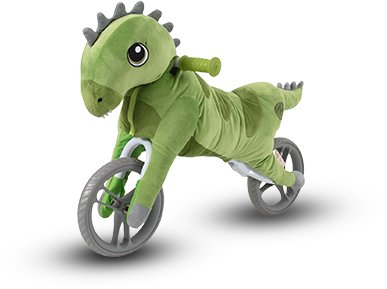 Friendly Dino
Climb onto a dinosaur and discover the world with your new Buddy!
Shop now
My Buddy Wheels Balance Bike Features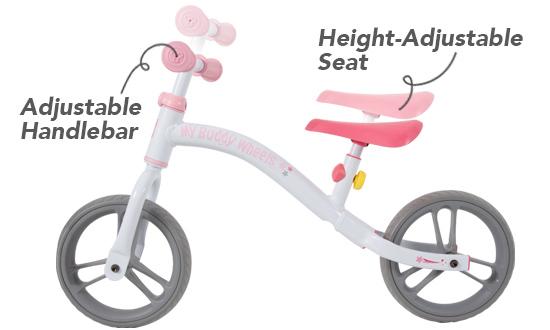 Adjustable Seat & Handlebar
The seat and handlebar height can grow along with your little ones from 2 years to 4 years, or up to 44 lbs. Sturdy and light body allows the child a smooth and easy ride.
Washable & Removable Buddy
Our soft and fluffy Buddies are designed to be able to follow your kids on all their adventures. For added convenience, they are easily removable and machine-washable.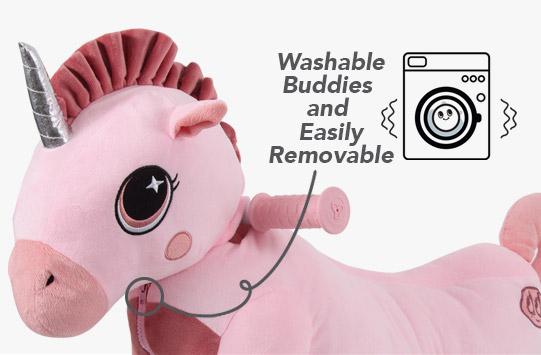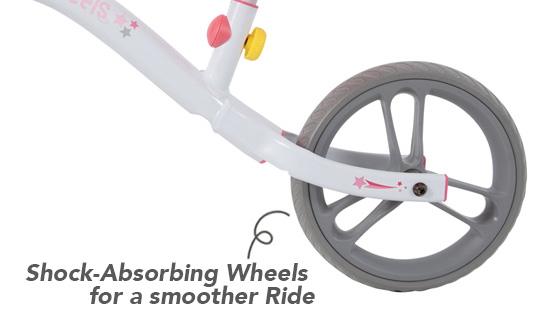 Shock-Absorbing Wheels
My Buddy Wheels come with shock-absorbing puncture-proof wheels to ensure a safe ride both indoors and outdoors.
My Buddy Wheels is the first balance bike your 21st century toddler needs.
At MY BUDDY WHEELS HQ we think learning to cycle can be way more fun! Climbing onto a dinosaur, a horse or a unicorn captures a toddlers imagination like nothing else, and makes the traditionally scary task of learning to ride a bike, an insanely fun and exciting experience.
This advanced balance bike is designed from the ground up to teach balance, coordination and gross motor skills. Friendly Buddies are a companion and help the child build confidence and balance without realising because they will be having so much fun - playing. Letting their imaginations go wild and going on big adventures with their Buddy
These happy memories stay with them forever, and they will forever associate this happy, confident feeling with cycling. My Buddy Wheels gives toddlers confidence to go to the next stage. To go straight to a pedal bike with ease.
Developed in association with toy inventor Peggy Brown and the award winning innovative, design team at Yvolution, My Buddy Wheels is a future classic. Already recognised for its innovative and unique design and nominated for the prestigious Nuremberg Toy Award 2019.
My Buddy Wheels is unique and beautifully-designed balance bicycle for kids aged 2+. Let their imaginations go wild on their adventures with My Buddy Wheels.
Shop the range