Lightfoot Driver Rewards
Lightfoot is the world's first technology to reward better drivers.
If you're a good driver then with Lightfoot, you will be able to earn weekly rewards.
If you need it, then Lightfoot can also help you reduce the harmful effects of driving by encouraging smoother, more efficient driving habits through live feedback whilst you're on the road.
By encouraging and rewarding better driving, Lightfoot helps you achieve the maximum performance possible from your vehicle, with minimum effort.
Since its founding in 2013, Lightfoot has been supplying commercial vehicles and fleets with their pro-driver, rewards-based technology.
Lightfoot has now expanded into the consumer market, allowing every driver to take advantage of their incredible technology.
Find out more about Lightfoot from Halfords, below.
How Does Lightfoot Work?
Described as the "Fitbit" for cars, Lightfoot enables you to monetise your everyday driving.
The device connects to your vehicle's computer, plugging into the OBDII port. Note: if your car is made before 2004, your vehicle will not be compatible with this device.
Once connected, Lightfoot will sit on your dashboard, using lights and optional audio feedback to tell you how smoothly you're driving.
If, for example, you're pushing your engine too hard (and potentially in the wrong gear), you'll be able to visually see the lights on your Lightfoot go from green to red.
The connectivity between your vehicle and Lightfoot allows the device to feedback on live engine data, giving you bespoke guidance for you, your vehicle, and your driving style.
Why Should I Use Lightfoot?
After every journey you make, Lightfoot will give you a score to reflect how well you've driven.
Achieving a score of 85% or more will earn you Elite Driver status - and the chance of winning some rewards and prizes.
As an Elite Driver, you'll be reducing your vehicle's fuel use and emission rates by as much as 20%, and you're 40% less likely to be in an accident.
Lightfoot have also estimated that, every year, a driver using their technology in even the most efficient car will save at least 250kg of CO2 and over £160 of fuel.
With Lightfoot Rewards, you can save on a multitude of things - from grocery shopping to discounts on your next holiday. You can access over 100 different discounts via the Lightfoot app, and enter in weekly competitions to win holidays, technology, experience days and more.
So, for every week you are an Elite Driver, you'll be in with the chance of winning hundreds of pounds and amazing tech, experiences, and other goodies.
This is all on top of the fuel savings, reduced wear and tear, and reduced risk of accidents that come with having Lightfoot fitted in your vehicle.
How Do I Use Lightfoot?
All journey scores and car information are stored in the Lightfoot app.
Within the app, you can check your driving score, join leagues, view competitions and rewards, as well as edit your account and settings.
The app also allows you to categorise your journeys; whether you're travelling for business or pleasure, making separating journeys for mileage claims as simple as pressing a button.
The Lightfoot app also allows you to check on your vehicle's health and road legality. Fault alerts, MOT, tax reminders and battery health are all accessible within the app for you to check up on your car.
In order to keep your device working correctly and with the most efficient score, Lightfoot offers an optional subscription for a small fee of £3.99 per month.
This subscription will allow your device to be updated automatically with the latest technology and installation updates.
Without the subscription, you will lose access to the Lightfoot Rewards platform.
What's in the box?
When you order your Lightfoot device, you will receive everything you need to fit and install it in just a few minutes: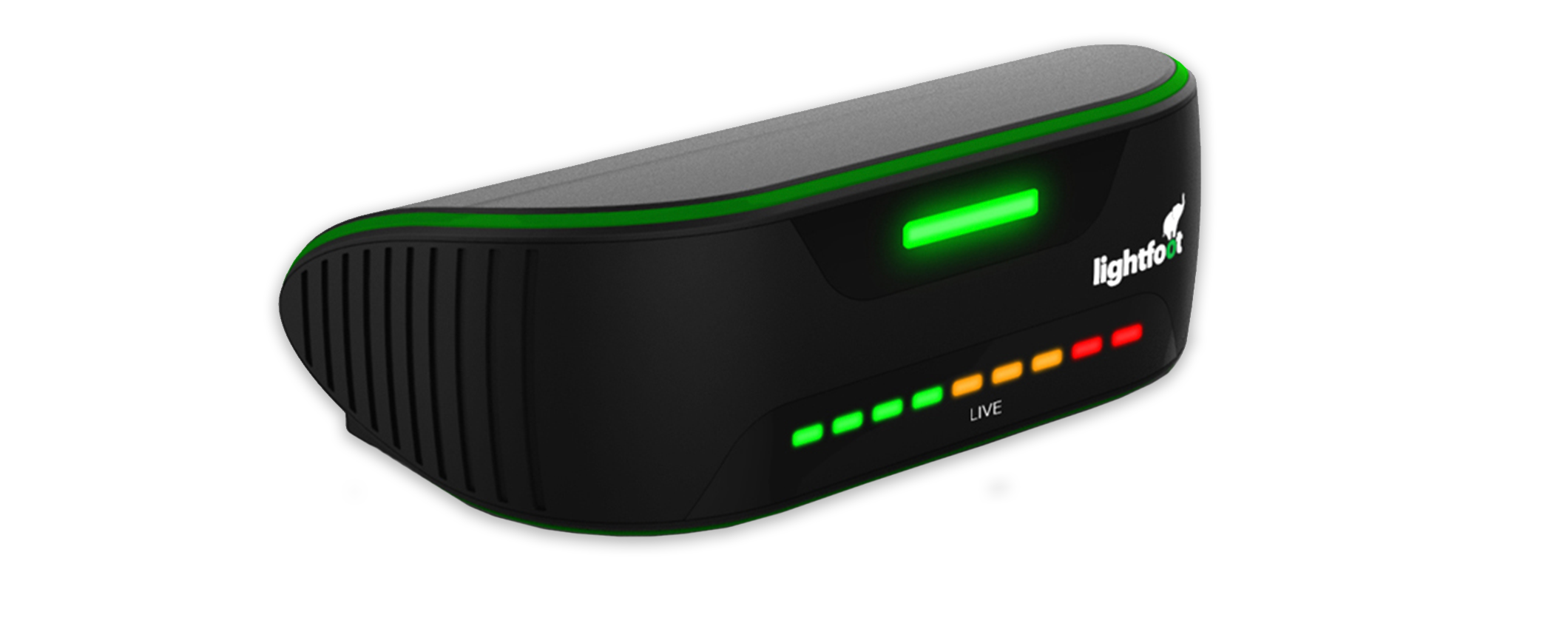 - Window clip & adhesive strip - Allowing you to secure your device wherever it fits best
- 3-step installation guide - A simple and straightforward guide to help you install your device
- First month's subscription FREE - Lightfoot will give you your first month's subscription for free, if you choose to opt for their subscription package