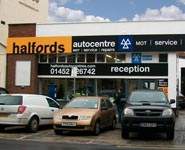 Halfords Autocentre Gloucester (Worcester St)
16 Worcester Street Gloucester , GL1 3AB
What customers are saying about us
Easy to book
Easy to book. Pay in advance online. Great communication. Most definitely recommend.
Helpful & informative
Helpful & informative. I've used them several times and will do again!
edward calway
Excellent short notice work
Replacing brakes and calipers
Very good service
Very good service. The only garage that was open to fix my brakes over Christmas - excellent service and a reasonable price
Perfect!! I would highly recommend!
Booked my Hybrid in for a Full service, Premium Engine clean and an MOT at the Worcester St Halfords Autocentre. My car failed it's MOT on two points (one was quite major). The engineer rang me, quot Read more...ed a cost to repair, had everything fixed within a few hours, re-tested and Passed the MOT. I also got them to strip and clean my brakes. My car feels so much better now... and it was a hell of a lot cheaper than taking it to the Toyota service centre in Cheltenham. I will be taking my car back in January to have some repair work done on my suspension. All work carried out is guaranteed for 12-months, or 12,000 miles... whichever comes first. Excellent!!!!
Great prompt service and booked for
Great prompt service and booked for next work to be done all staff I came into contact with were very good
Excellent
Excellent, professional service from the temporary manager Pierre and his staff. I have been using the services of the branch at Worcester St, Gloucester for approx. twenty years.
Robin Gilmore
Great Service
Swift, efficient and thorough.
Why go anywhere else
Heard a terrible clunking sound from my suspension and was very worried. Used Halfords Autocentres Online Booking system, quick and easy with next day availability to look at the problem. Took it to W Read more...orcester Street, Gloucester and was greeted by Luke who I advised of my problem. Rang me within the hour to explain the fault and price and time to repair. Car was fixed within 3 hours and ready for the road. Upon picking it up the Tracking was all off after new Ball Joints. Rang and spoke to Luke who booked me in again next day to resolve the problem free of charge. Never been let down at Halfords, fast and quality service and even if there is a hiccup they go above and beyond to get your car back on the road in no time. Customer Service is top notch. 100% Recommend.