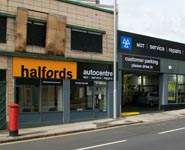 Halfords Autocentre Nottingham (Huntingdon St)
248-262 Huntingdon Street Nottingham , NG1 3NB
What customers are saying about us
Well priced and great service at…
Well priced and great service at Nottingham Huntingdon Street branch.
MOT & Service SORTED 😀
The team completed a full service and MOT on my van. Great communication and flexibility with the booking. My van was collected and returned to my home address. .y main contact was Carl, who clearly explained what work had been done, and also recommended next steps for follow-on, bit non-essential works.
I was not happy with the air con…
I was not happy with the air con service. I booked for Aircon diagnostics but they did a refilling of gas and said to me to monitor if there is a leak. i then observed after two days that the AC is not working. When i took back then they did the aircon diagnostics and said to me that the compressor is faulty which they could have told me the same in the first instance without filling the Gas.